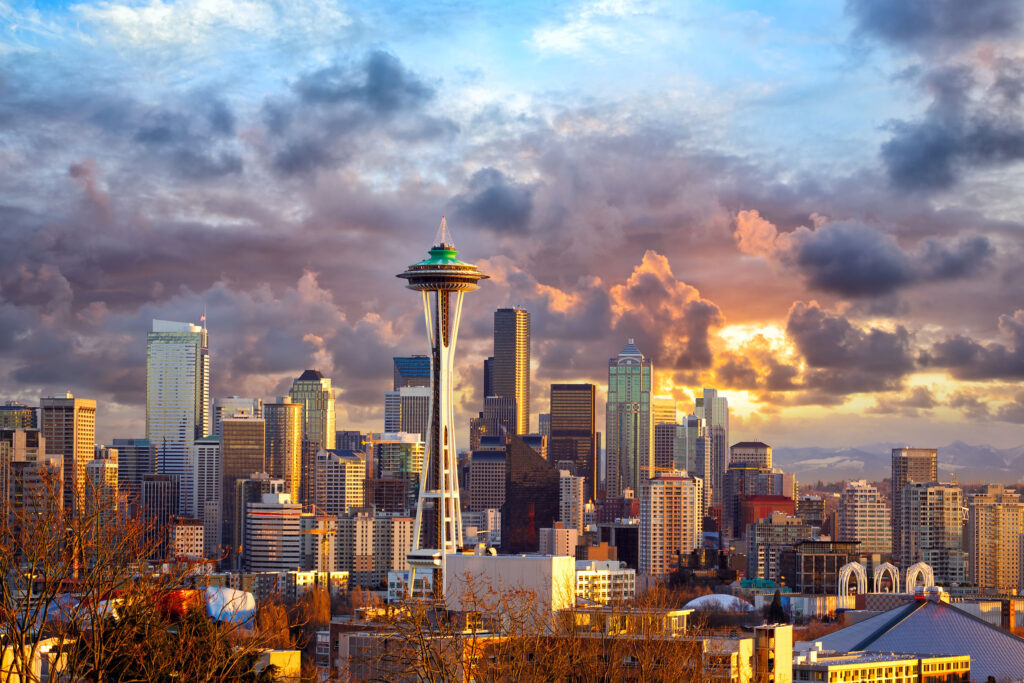 More than seven months of social distancing and self-isolating has taken its toll on many Washington residents. While it's important to stay on guard as the colder months and flu season approach, now is a great time to go for a walk in and around Seattle and enjoy the changing seasons.
Enjoy a breath of fresh air (through your mask, of course) with some of the best walks in Seattle listed below. And while you're exploring the city, don't forget to follow these Pedestrian Safety Month tips offered by the Seattle personal injury lawyers at Lerner and Rowe Injury Attorneys.
#1: Seattle Center
Located just steps from the iconic Space Needle, Seattle Center is one of the best places to walk around in Seattle. Normally a bustling event space, Seattle Center is currently operating in a limited capacity to conform with COVID-19 restrictions. That being said, there's still plenty of places to walk around and explore in this area, including the International Fountain, Chihuly Garden, and the Museum of Pop Culture. You're also likely to see live musicians performing throughout the center—perfect for a leisurely weekend stroll.
Safety Tip: While Seattle Center itself is largely free of motorized traffic, make sure you exercise caution when making your way from one of the nearby parking garages. Always keep your head up when you're walking behind cars and pay attention to your surroundings. Watch for cars entering or exiting driveways, or backing up in parking lots, as they may not always be able to see you.
#2: Broadway in Capitol Hill
If you find yourself missing spending time in the city, a walk up and down Broadway in Capitol Hill is a sure way to make things feel a little more normal again. This 1.6-mile stretch through Seattle neighborhoods is speckled with cultural experiences and unique window shopping opportunities. You can also explore the newly-reopened Frye Museum with a timed-entry ticket. People watch, pick up your next good read at the Seattle Public Library, or meander through nearby Cal Anderson Park.
Safety Tip: Always use crosswalks and sidewalks whenever they are available. Luckily for Seattle pedestrians, the many rainbow-colored crosswalks on Broadway are super easy to spot.
#3: Alki Trail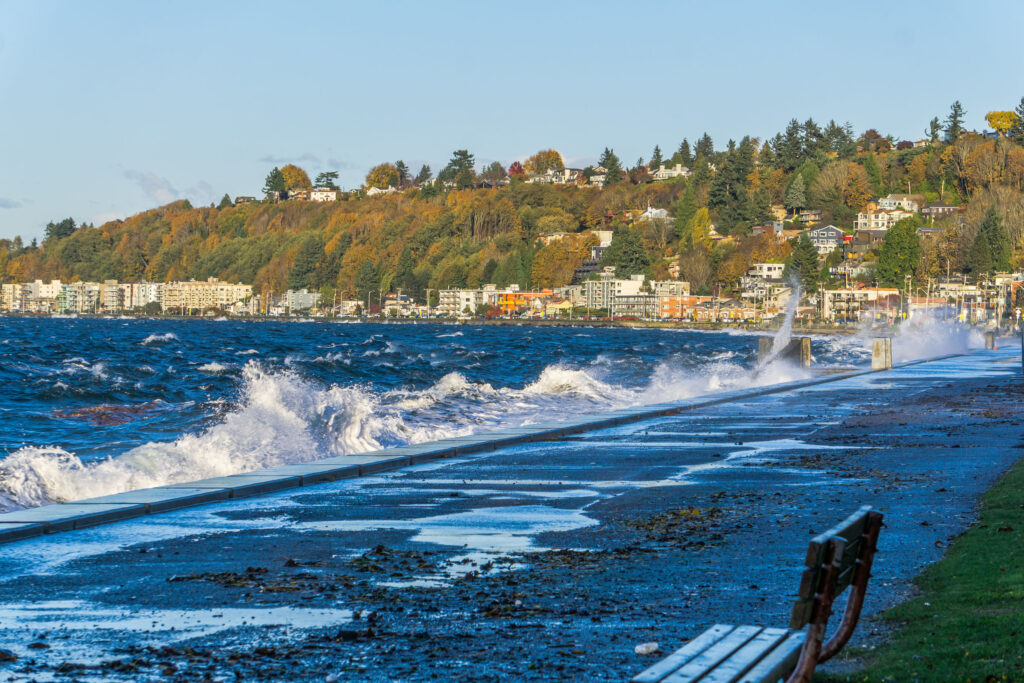 Enjoy sweeping views of the Seattle skyline from West Seattle's beachfront Alki Trail. This 4.4-mile trail is great for dogs and kids and free to the public.
You'll also get to see what remains of the now-defunct Luna Park, Seattle Statue of Liberty, Puget Sound, the Olympic Mountains, and Elliot Bay into downtown Seattle. This is the picture-perfect trail for Seattle visitors and residents alike. The paved road also makes it suitable for strollers and wheelchairs, with designated lanes for cyclists and foot traffic.
Safety Tip: Although Alki Trail has its own six-foot expanded sidewalk and is separated from moving traffic by a parking lane and curb, it's still important to remain aware of your surroundings. If you're using earbuds, only use one at a time so you can still hear what's going on around you. While Seattle law only prohibits texting and driving, getting distracted by your phone as a pedestrian can put you and others at risk of suffering injury. Enjoy the views, and leave your phone in your pocket!
#4: Green Lake Park
Green Lake Park, among the best walks in Seattle, has something for everyone, including boaters, swimmers, and picnickers. The 2.8-mile paved path around the lake is open to pedestrians, cyclists, runners, and skaters while offering peaceful views of the lake and natural preserve which is home to hundreds of plant, bird, and waterfowl species. Located just off the I-5 Express in north central Seattle, Green Lake Park is just a fifteen-minute drive from Downtown Seattle.
Safety Tip: Walkers, runners, baby strollers, bicyclists, and skaters are all welcome to use Green Lake Park's trail loop. Be sure to follow all park guidelines. Pedestrians should always use the inside lane on the path and bicyclists should stay in the outside lane to help prevent bicycle accidents.
#5: Squak Mountain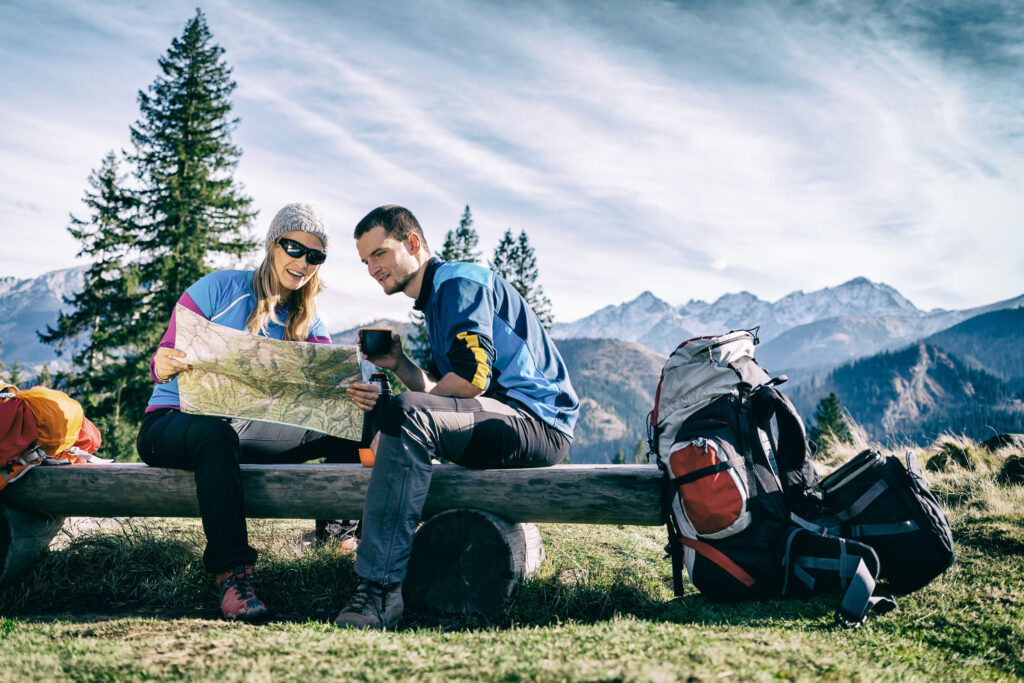 If you're looking for a walking trail that will really get your heart pumping, look no further than Squak Mountain. It's a bit of a drive to get there (about 40 minutes from Seattle), but this mountain offers a challenging trail and woodsy surroundings.
Boating, geocaching, and metal detecting are just the tip of the iceberg when it comes to activities you can try out at Squak Mountain State Park. Trails here are popular with trail running enthusiasts, but you can just as easily walk the trails, too. Overall, Squak Mountain offers some of the best walks in Seattle if you're willing to stray from the beaten path.
Safety Tip: Squak Mountain trails often include short inclines, frequent tree roots in the path, and muddy sections even when it's not rainy. Use caution, wear appropriate footwear, and take your time to avoid a slip-and-fall accident.
Celebrate Seattle Pedestrian Safety Month
Checking out some of these places to walk around in Seattle is a great way to get some exercise, beat cabin fever, and brush up on your pedestrian safety habits. Always follow posted rules inside park and local laws and regulations. And remember, if you are injured in a Seattle pedestrian accident because of someone else's negligence, Lerner and Rowe Injury Attorneys will be here to help.
Contact our Seattle team by calling 844-977-1900. We offer free case reviews to all prospective clients so you can decide if filing a personal injury lawsuit is right for you. More questions? Don't hesitate to ask one of our representatives standing by via LiveChat. You can even submit your request for a free consultation using this convenient form. 
Looking for more information on commuting in Seattle? Check out our Seattle bike safety tips and our guide to motorcycle and scooter safety.
The information on this blog is for general information purposes only. Nothing herein should be taken as legal advice for any individual case or situation. This information is not intended to create, and receipt or viewing does not constitute, an attorney-client relationship.