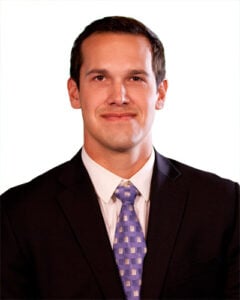 After 11 years as a personal injury lawyer, Jesse Gran brings to Lerner & Rowe Injury Attorneys extensive experience in complex personal injury and wrongful death claims. Over the course of his career, Mr. Gran has successfully resolved a variety of major cases resulting in seven-figure settlements. These experiences have molded Mr. Gran into the lawyer he is today. He understands the greatest asset is the client and treats each client as if they are his only one.
Mr. Gran is admitted to the Arizona State Bar.
Education and Interests
A native of the state of Washington, Mr. Gran earned his undergraduate degree from the University of Washington.
Outside of the office, his hobbies include traveling and action sports. Additionally, one of his favorite quotes is "We travel not to escape life, but for life not to escape us."
Contact Lerner & Rowe today for a free consultation to learn more about your legal options.
"A customer is the most important visitor on our premises, he is not dependent on us. We are dependent on him. He is not an interruption in our work. He is the purpose of it. He is not an outsider in our business. He is part of it. We are not doing him a favor by serving him. He is doing us a favor by giving us an opportunity to do so." – Favorite Quote of Lerner and Rowe –