Fatal Accidents Caused by Negligence Are Crimes!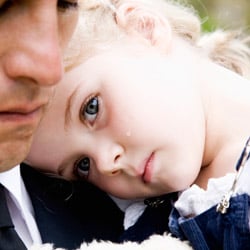 It's a simple truth that death is a natural part of life. However, death becomes an unnatural criminal act when a person's life is cut short because of the negligent act or decision of another. Murder, homicide, gross negligence, and unforeseen accidents are all causes of wrongful deaths.
Tragically, after a wrongful death accident, grieving family members and loved ones are often forced to deal with their sudden loss, costly funeral expenses, and medical bills. They may also be flung into financial distress by no longer being able to pay for rent, utilities, and other living expenses that were once covered by the deceased's income.
If you lost a loved one in a wrongful death accident, contact Lerner and Rowe Injury Attorneys. Our legal support staff, experienced lawyers, and board certified wrongful death specialist are all empathetic to your loss. We understand the new hardships you may face, and we'll represent you to the fullest extent of the law.
A Lerner and Rowe Injury Attorneys' wrongful death attorney will seek compensation for beneficiaries left behind and retribution against the person(s) responsible.
Damages from a wrongful death accident can cover loss of:
Future earnings.
Companionship, counsel and daily household assistance.
Educational care and services for children (child care and also education expenses).
Retribution may include:
Financial compensation to beneficiaries.
Court hearings.
Extensive jail time.
Caring Board Certified Wrongful Death Specialist

Your needs are our priority. We understand that after you've lost a loved one in a wrongful death, contacting a personal injury law firm can't take away your grief. But, it can help lessen some of your financial burdens. That is why our compassionate wrongful death lawyers pursue the compensation you deserve to cover current and future needs and damages.  So, call us directly at 844-977-1900, click to chat, or submit an online case review form.
Your initial consultation is free, and you will not be responsible for any fees unless we win compensation for your claim. Our legal support staff, experienced personal injury attorneys and board certified wrongful death lawyer are just one call away!