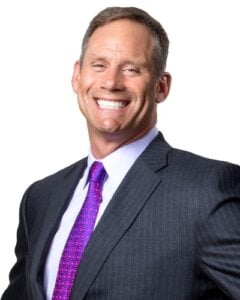 Personal Injury Attorney Glen Lerner is a founding partner of Lerner and Rowe Injury Attorneys and Lerner and Rowe Law Group. Attorney Glen Lerner is only licensed to practice personal injury law in the State of Nevada and has been doing so since 1991. He has successfully built not just a local name, but a national reputation. Glen Lerner deals with a large network of attorneys all over America to provide legal services in cases of personal injury, medical malpractice, hazardous products, and more.
The offices of Lerner and Rowe and their attorneys believe in respecting their customers.
"A customer is the most important visitor on our premises, he is not dependent on us. We are dependent on him. He is not an interruption in our work. He is the purpose of it. He is not an outsider in our business. He is part of it. We are not doing him a favor by serving him. He is doing us a favor by giving us an opportunity to do so." – Favorite Quote of Lerner and Rowe –
Glen prides himself in fighting for the "little guy" against big insurance companies and large corporations. "I grew up fighting every day of my life against bullies and I was the one who the other kids turned to. Now I do it as a grownup, and I get paid for doing what I love to do… fight!"
Lerner attended Dartmouth College for one year and graduated from Duke University in 1987 with a major in Religious Studies. Glen also prides himself on being a member of Duke's 1986 NCAA Division I Men's National Championship soccer team.
Glen Lerner is a 1990 graduate of Tulane Law School in New Orleans, Louisiana.
He worked odd jobs throughout his life including being a Teamster and a garbage man to better understand many of the people he would someday represent. "I was number one in my class and got accepted at Harvard, Dartmouth, Stanford, and Duke."
"How could I ever represent people and really know how they feel if I have never had to work hard like them? Most of the people we represent are hardworking people and so many people that are privileged to get the education I have received never learn what it is like to really work and get their hands dirty," says Glen Lerner.
"I wanted to work hard jobs to be able to appreciate what I have and show that appreciation when I am with my clients."
Glen Lerner is married and also has four beautiful children. He enjoys working out, martial arts, and relaxing at home. As a native of Boston, he loves anything to do with the Red Sox and Patriots.
---
Feature interviews:
Glen Lerner on "Game Changing Attorney"
Glen Lerner and Kevin Rowe Featured on the Front Cover of So Scottsdale
Glen Lerner featured in SWAGGER, North America's premier digital first Modern Men's Luxury Lifestyle Publication