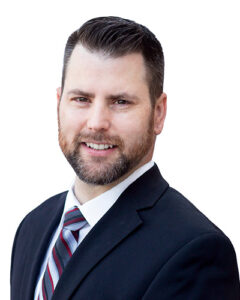 Daniel Kaapke is a litigation attorney at Lerner and Rowe Injury Attorneys. Prior to embarking on his career as a litigator, Daniel worked for a decade in the automotive industry, in sales and management. He brings those skills and experience to the negotiation table when representing his clients who have been injured.
Mr. Kaapke's legal experience focuses on many aspects of personal injury litigation including premises liability, catastrophic injury, wrongful death, product liability, and insurance bad faith. Mr. Kaapke's legal practice centers around his clients, with an emphasis on thorough analysis, candid communication, and a tenacious drive to win.
Education and Personal Interests
Mr. Kaapke graduated summa cum laude with a bachelor's degree in Political Science from the University of Arizona in 2012. He went on to earn a Juris Doctor from Sandra Day O'Connor College of Law at Arizona State University in 2016. While in law school, he served as the research editor for the prestigious Arizona State Law Journal, and worked as a clerk for two administrative law judges at the Equal Employment Opportunity Commission.
In his free time, Daniel Kaapke enjoys spending time with his soon-to-be wife and son, as well as tabletop gaming and going to the dog park with his pet Doberman, Hadley. A bit of a foodie, Daniel also loves to cook and travel to new places to sample the local cuisine.
"A customer is the most important visitor on our premises, he is not dependent on us. We are dependent on him. He is not an interruption in our work. He is the purpose of it. He is not an outsider in our business. He is part of it. We are not doing him a favor by serving him. He is doing us a favor by giving us an opportunity to do so." – Favorite Quote of Lerner and Rowe –