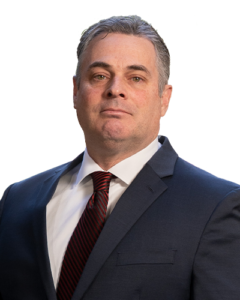 Jeff Fronczak joined the Law Offices of Lerner & Rowe, P.C. in September of 2020 as the Director of Human Resources for the national offices. Mr. Fronczak was born and raised in Chicago, Illinois. He is licensed to practice law in Illinois and Arizona.
Prior to joining Lerner and Rowe, Mr. Fronczak spent over 25 years with the Chicago Police Department, first as a sworn officer and sergeant, then as an Employee Relations Manager and Employment Law Attorney in the Office of the Superintendent. In this position, he represented the department at various government agencies, developed and implemented employee policies, and advised and counseled senior management on a wide array of employment and human resource matters. He also filled various roles in the Human Resources Division of the department.
Educational Achievements & Personal Interests
Mr. Fronczak attained his undergraduate degree in Business from Loyola University and earned his J.D. from John Marshall Law School. He also has a Master's in Business Administration from the University of Wisconsin and a Master's in Public Policy and Administration from Northwestern University.
In his free time, Mr. Fronczak spends time with his family boating on Lake Pleasant or off roading in the Arizona desert. He may also be found destroying landscaping on local courses in what can only be loosely interpreted as "golfing."
"A customer is the most important visitor on our premises, he is not dependent on us. We are dependent on him. He is not an interruption in our work. He is the purpose of it. He is not an outsider in our business. He is part of it. We are not doing him a favor by serving him. He is doing us a favor by giving us an opportunity to do so." – Favorite Quote of Lerner and Rowe