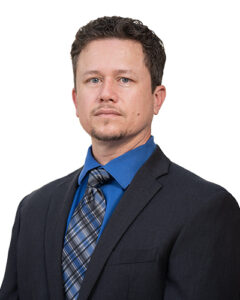 Jeffrey T. Jones is a personal injury attorney at Lerner and Rowe Injury Attorneys. He graduated magna cum laude, with Honors, from Valparaiso University School of Law in 2012. Prior to law school, Mr. Jones obtained his Bachelor of Science degree in Business Administration, summa cum laude, from Indiana Institute of Technology.
Prior to law practice, Mr. Jones worked as a supervising paralegal for a law firm in Northern Indiana for ten years. During that period of time, he gained an extraordinary amount of practical training and was involved in hundreds of personal injury cases, mediations, and trials learning under the wing of a seasoned trial attorney.
Mr. Jones is licensed to practice law both in Arizona and Indiana. He worked for a law firm in Northern Indiana and ran his own successful law practice, during which time he was involved in countless contested and uncontested legal matters before the courts and city and county entities.
Mr. Jones joined Lerner and Rowe Injury Attorneys in 2019. His past experience in contested litigation, negotiations, mediations and various personal injury and civil litigation cases has given him a diverse knowledge and practical experience to assist clients with a myriad of issues. Mr. Jones has counseled thousands of accident victims and resolved significant cases allowing his clients to receive fair and just compensation for their injuries.
Mr. Jones previously provided volunteer assistance with non-profit organizations for the homeless and for those who could not afford legal counsel, and he has served on a number of boards including a non-profit agency that provides free health care to the uninsured.
Jeffrey T. Jones is a California native who loves the Arizona weather, culture and people. When away from the office, he enjoys spending time with his wife and four children. His hobbies include involvement at his church, marine aquariums, hiking and outdoor activities.
"A customer is the most important visitor on our premises, he is not dependent on us. We are dependent on him. He is not an interruption in our work. He is the purpose of it. He is not an outsider in our business. He is part of it. We are not doing him a favor by serving him. He is doing us a favor by giving us an opportunity to do so." – Favorite Quote of Lerner and Rowe –