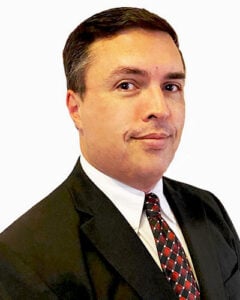 Carlos A. Obrey-Espinoza joined Lerner and Rowe's New Mexico legal team in 2020. He has successfully won over 30 jury trials since 2007.
Prior to representing Albuquerque personal injury clients at Lerner and Rowe Injury Attorneys, he spent 17 years learning the ins and outs of the insurance industry, serving as an attorney for insurance carriers. In 2018, he shifted his focus from representing insurance companies to upholding accident injury victims' rights through plaintiff personal injury work.
Mr. Obrey-Espinoza believes that the most important parts of practicing law are always doing what is in the best interests of the client and never compromising your ethical or professional duties.
"In the end, we attorneys only have our reputations. My personal mantra: 'Don't practice like a punchline!'" —Carlos A. Obrey-Espinoza, Esq.
Educational and Professional Background
Mr. Obrey-Espinoza grew up on a horse ranch in Northern New Mexico and graduated from Los Alamos High School. He received a Bachelor of Arts in English Literature and Psychology with Honors from New Mexico State University in 1991. A few years later he was drawn to the legal field and earned his law degree from the University of New Mexico School of Law in 2001.
He is a member of the New Mexico Bar and has a Distinguished Rating from Martindale-Hubbel for Ethical Standards.
More about Carlos Obrey-Espinoza
Mr. Obrey-Espinoza has lived in Albuquerque since 1996. When he isn't looking out for the welfare of his clients, he enjoys watching films, singing off-key to 80s music, and spending time with his family.
"A customer is the most important visitor on our premises, he is not dependent on us. We are dependent on him. He is not an interruption in our work. He is the purpose of it. He is not an outsider in our business. He is part of it. We are not doing him a favor by serving him. He is doing us a favor by giving us an opportunity to do so." – Favorite Quote of Lerner and Rowe