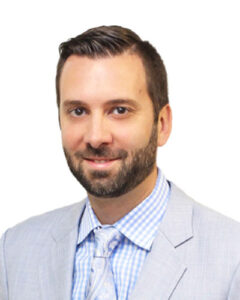 Jonathan Faust is the Managing Attorney of the Chicago and Merrillville accident and injury law firms of Lerner and Rowe Injury Attorneys. He received his Bachelor of Arts degree in History from Ball State University in 2004. Jonathan earned his Juris Doctor degree, Magna Cum Laude, from Indiana University Robert H. McKinney School of Law, where he was also a member and Associate Editor of the Indiana Law Review.
While in law school, Jonathan interned with the Marion County Prosecutor's Office, serving in the Major Felony Narcotics Division. He also served as a judicial extern with the Head Magistrate of the Marion County Juvenile Court. Jonathan was named Robert H. McKinney's 2010 Client Counseling Competition Champion and also earned the distinction of ABA Regional Client Counseling Competition semi-finalist.
Jonathan's decision to practice personal injury law stems from his desire to help and serve others. He has dedicated his legal career to making a difference in the lives of victims harmed by the negligent actions of others. Over the past 8 years, he has personally helped hundreds of accident and injury victims recover millions of dollars from insurance companies for medical expenses, lost wages, and other damages.
Jonathan Faust is a proud member of the Christian Legal Society. He is a lifelong supporter of Purdue University Athletics and a loyal member of the John Purdue Club. He and his wife Megan, live with their three children in Northwest Indiana. Jonathan is licensed to practice law in Indiana and Illinois.
Contact us today when you need help with your personal injury claims. The office of Lerner and Rowe Injury Attorneys also handles dangerous product claims. We offer free consults and also answer our calls 24/7. So don't wait!