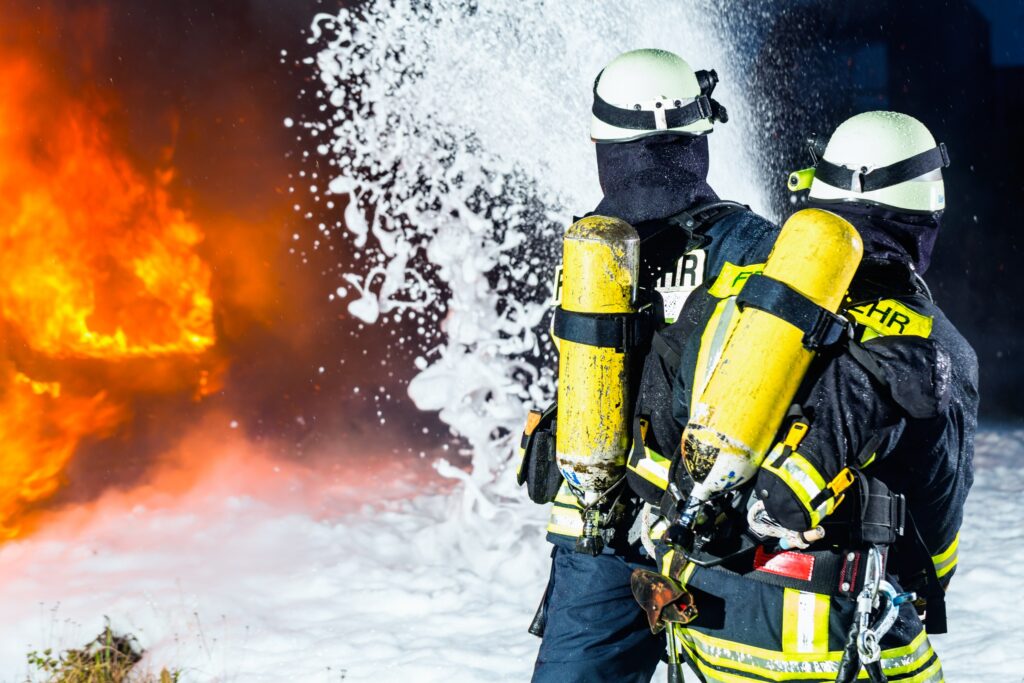 Were you or a loved one regularly exposed to firefighting foam (AFFF) only to later develop cancer? If so, you may be entitled to compensation through a firefighting foam lawsuit for civilian, Air Force, and Navy firefighters.
---
What Are AFFFs and PFAS?
Aqueous film-forming foam (AFFF) is said to be a highly efficient fire suppressant used to quickly douse Class B high-hazard flammable liquid fires, such as fuel and petroleum fires. The foam does this by blanketing a fire, thus cutting off the oxygen supply needed to burn.
AFFF forms spontaneously upon the ejection of the concentrate/water mix from a fire hose nozzle. Although AFFF is very effective in extinguishing Class B fires and saving human lives, it has recently been determined to be highly toxic as it contains per- and polyfluoroalkyl substances (PFAS).
Perfluoroalkyl and polyfluoroalkyl substances (PFAS) are a group of man-made chemical compounds found in AFFFs. More specifically, PFAS found in AFFFs are the key to smothering aggressive fires.
Studies conducted by the National Cancer Institute report that workers exposed to this possible carcinogen show an increased risk in the development of kidney, pancreatic, and testicular cancers.
PFAS may also cause exposed workers to develop:
Bladder cancer
Liver cancer
Prostate cancer
Additional major health organizations such as the American Cancer Society (ACS), The Centers for Disease Control and Prevention (CDC), and the United States Environmental Protection Agency (EPA) have also noted that certain PFAS may be linked to cancer in those exposed to the foam.
Other serious side effects resulting from exposure to the allegedly toxic chemicals in firefighting foam include:
Damaged immune systems
Fertility complications
Some manufacturers of AFFF currently face legal allegations for their failure to adequately warn firefighters (military and civilian), as well as support personnel, who came into contact with aqueous film-forming foam of a potentially higher risk for developing life-threatening health complications.
---
Who's at Higher Risk of AFFF Exposure?
Manufacturers are alleged to have knowingly used PFAS since the 1950s to develop and sell firefighting foam, putting individuals that work directly with the chemicals at a higher risk of exposure to AFFF.
U.S. military firefighters and civilian firefighters assigned to airports started using the foam in the 1960s. Airports continued to use AFFF until 2018. The military is currently phasing out the use of certain PFAS.
As such, those at a higher risk of developing cancer because of decades of AFFF exposure include:
Firefighters
Airport workers
Air Force and other military members
Chemical plant workers
---
Manufacturers and Distributors of Firefighting Foam
A few of the manufacturers and distributors of firefighting foam being alleged of hiding dangerous substances from government and the public include:
DuPont™ de Nemours Inc
Corteva
Tyco Fire Products LP
The Chemours Company
UTC Fire & Security Americas Corporation, Inc.
---
Were You Exposed to Firefighting Foam?
If you suspect that your cancer diagnosis, or another serious medical condition, was caused by exposure to AFFF, contact our law firm for a free consultation. You may be entitled to compensation and our legal team is ready to help you recover the financial compensation that you deserve. Compensation that may be used to cover your medical expenses and other losses.
---
Our Firefighting Foam Attorneys Are Here to Help
Lerner and Rowe is working with leading attorneys nationwide to get justice for firefighters and our servicemen who were wrongfully exposed and who have suffered injuries. Our injury attorneys are currently investigating toxic foam exposure claims for a potential lawsuit. Please contact us directly to share your experience with us. We will give you our undivided attention as we carefully review your situation.
Please give us a call, chat with a live representative, or submit a confidential online form now to get a free consultation. We are here to help you understand your options.