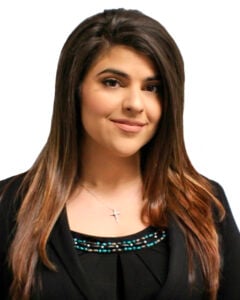 Natalie Saliba is an Associate Attorney at Lerner and Rowe Injury Attorneys. Ms. Saliba was born and raised in Chicago, IL and spent the formative years of her childhood overseas in Lebanon before returning to the U.S. in 2001. She graduated Cum Laude with her Bachelor of Arts degree in Criminal Justice from University of Illinois at Chicago. She then earned her Juris Doctor degree from Valparaiso University Law School in 2018.
While in law school, Ms. Saliba interned with the Illinois Department of Children and Family Services (DCFS), was a teacher's assistant to the Associate Dean for Experiential Learning, and was an active member of Amnesty International. Additionally, she maintained her employment with Lerner and Rowe throughout law school which helped further her knowledge and experience in the legal field.
Natalie joined Lerner and Rowe years prior to becoming an attorney, where she began her employment as a Case Manager Assistant. She soon realized that she had a passion for personal injury law, so with determination along with the love and support from her family and coworkers, she reached her legal career goal at the same firm she started at back in 2014.
She has so much love for her Lerner and Rowe family and recognizes how important it is to have a healthy and happy work environment in order to mirror her truest potential for her clients. Ms. Saliba's passion is to help and serve others and she strives to empathize and fight for her clients, to assure the utmost care and satisfaction.
"A customer is the most important visitor on our premises, he is not dependent on us. We are dependent on him. He is not an interruption in our work. He is the purpose of it. He is not an outsider in our business. He is part of it. We are not doing him a favor by serving him. He is doing us a favor by giving us an opportunity to do so." – Favorite Quote of Lerner and Rowe –