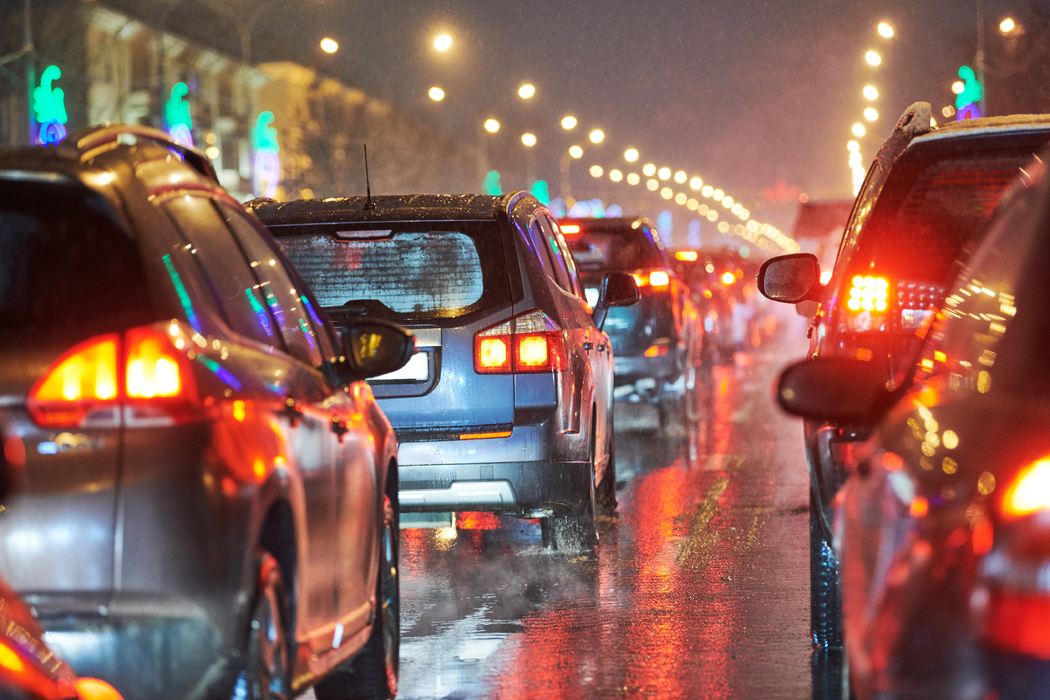 With Christmas and New Year's Eve right around the corner, there will be a lot of drivers on the road in the coming weeks. Unfortunately, more road trips often means more car accidents. Check out these holiday travel safety tips from the personal injury lawyers at Lerner and Rowe to keep yourself and your family safe this season.
Holiday Travel Safety Tips: Before You Leave
One of the best ways to prevent an accident this holiday season is to prepare well in advance of any travel days. Make a to-do list and check off each item as you complete it. You'll spend less time worrying if you've forgotten something if you've got a checklist in front of you to prove it. Here are five tips for before you leave.
Fuel Up
Being stuck on the side of the road with an empty gas tank is the worst feeling, especially when it's cold out. Fill up your car's gas tank before you leave, and you'll have one less thing to worry about during your drive. Pro tip: Get gas the night before so you don't have to fight for a pump at the gas station in the morning when everyone else is leaving town.
Check Your Tire Pressure
It is crucial to make sure your tires are properly inflated. Over- or under-inflated tires can cause a flat or blown tire, which could lead to an accident. Winter brings colder temperatures that often cause a significant dip in tire pressure. The good news is that many tire shops will check your tire pressure and add air as needed for free.
Pack Emergency Supplies
It's always a great idea to have an emergency kit in the back of your car. Your emergency kit should include essentials like:
A first-aid kit
Blankets
Sturdy shoes
Non-perishable food items and water
Flashlight
Don't forget your spare tire, jumper cables, road flares, and any other tools you might need in case of a breakdown.
Balance Your Vehicle
If you're not planning on traveling light, check your car's weight capacity, usually located in the driver side door jamb or in your vehicle's manual. Once you have confirmed that your car isn't overloaded, ensure that your items are evenly distributed across both sides of the car to maintain the car's balance. Also, avoid leaving loose items unsecured—if you need to stop suddenly or are in an accident, even small items can become dangerous projectiles to you and your passengers.
Plan Your Route
Your smartphone likely has apps that can help you navigate, monitor traffic, avoid hazards, and find nearby gas stations and restaurants. That being said, depending on the area you drive through, you may not always have service.
For peace of mind you might invest in a GPS system, or you can kick it old school and bring a map. Expect the unexpected and have several backup routes in mind in case traffic is too heavy on the main roads.
Holiday Travel Safety Tips: On the Road
Once you've packed your bags, filled the tank, and turned on the holiday tunes, it's time to hit the road. Here are five more holiday travel safety tips to stay safe while driving.
Buckle Up
Seat belts save lives. Make sure everyone in your car is buckled up. Double check that young children are secured in their car or booster seats and that the seats have been installed properly. Once you're on the road, don't forget to put your seat belt back on after making any pit stops. You should also make sure you're wearing your seat belt correctly. Improperly-worn seat belts can be as harmful as not wearing one at all.
Drive with Caution in Inclement Weather
Check the weather ahead of time, but be prepared for some unforecasted surprises. In late fall and early winter, snow can accumulate quickly, creating slick surfaces and limited visibility. Be on the lookout for rain, sleet, and black ice. Use your windshield wipers, headlights, and hazard lights when visibility is heavily reduced. If all else fails, pull off the road until conditions clear.
Related topic: How to Prepare Your Car for Winter in Chicago
Avoid Distractions
Cell phones, passengers, and even the radio can create driver distractions that cost lives. Keep your eyes on the road, both hands on the wheel, and let your front seat passenger handle the navigation. Resist the temptation to eat while driving, which can also be a dangerous distraction. Instead, utilize rest stops along your route to eat, use the bathroom, and stretch your legs.
Drive Rested
The holidays can be a stressful time of year. You may lose out on precious sleep because of this stress. Do yourself a favor and stay off the road unless you're rested. Drowsy driving can be just as dangerous as drunk driving. 
Drive in shifts so that everyone gets a break. If you're driving alone and find yourself getting sleepy, pull off the road. Many highways have drowsy driver exits where you can catch a quick snooze before resuming your travels.
Drive Sober
You may be in a hurry to get home in order to beat the holiday traffic. But if you've had a few drinks (or more), avoid getting behind the wheel. If you're planning to leave the same day as a holiday dinner or celebration, pick a designated driver to make the return trip home, or wait until you're sober.
Related topic: Tips to Prevent Impaired Driving
What to Do if You're Involved in an Accident This Holiday
From everyone here at Lerner and Rowe Injury Attorneys, we wish you and your family a safe and happy holiday season. If you do find yourself injured in an accident over the winter holidays, we encourage you to seek prompt medical care before contacting one of our offices across the country for a free consultation. 
When you do connect with us, know that our proactive and compassionate legal team will advocate on your behalf both in and out of the courtroom to obtain the compensation you deserve. We'll focus on winning your case so that you can focus on your recovery.
You can contact Lerner and Rowe Injury Attorneys 24/7 by calling 844-977-1900, speaking with a LiveChat representative, or submitting a free online case review. You can also visit any of our offices during regular business hours, Monday through Friday, 8:00 a.m. to 5:00 p.m. There's no fee until we win, so reach out to us today to see what our dedicated legal team can do for you. 
The information on this blog is for general information purposes only. Nothing herein should be taken as legal advice for any individual case or situation. This information is not intended to create, and receipt or viewing does not constitute, an attorney-client relationship.