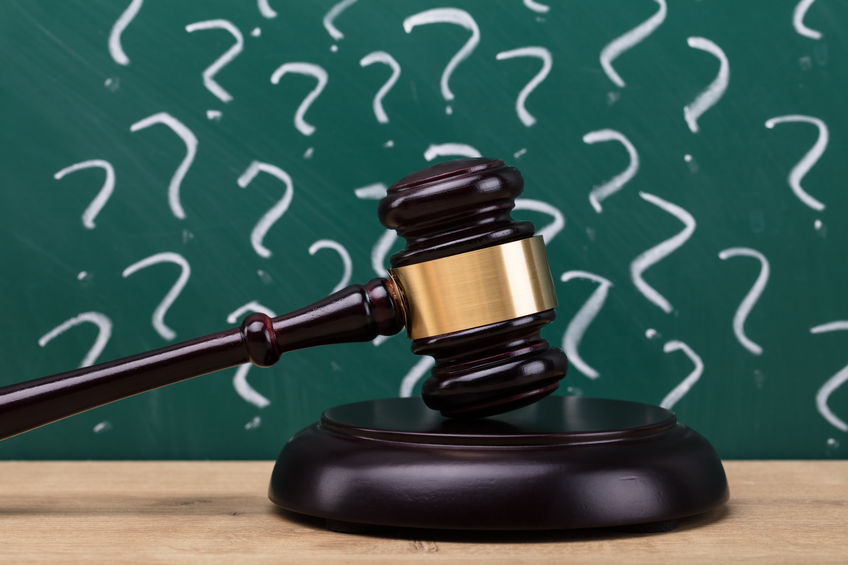 For the most part, people can go several days without ever hearing a legal term or phrase used (unless you're watching a crime show). But, one day, you get rear-ended by a distracted driver, and suddenly you are dealing with a whole lot of legalese. So, here with your helpful guide is Lerner and Rowe Injury Attorneys to provide the answers you need.

Note: This is only a guide, not a replacement for legal services. If you are in need of a lawyer, please contact us today!

1. Attorney, Lawyer, or Counselor at Law
While these terms could stand alone, they all mean basically the same thing. A lawyer is someone who practices law, studies it as well, and may or may not practice law in court. A counsellor at law is a person who gives advice and deals with various legal issues. Additionally, an attorney is someone who has passed a state bar and is licensed and qualified to represent a client in court.
In short, an attorney and counsellor at law can be referred to as a lawyer, but a lawyer and counsellor at law are not necessarily attorneys. Ultimately, when you are hurt in a car or truck accident, you need to seek out the best legal representation immediately to help, as all are not created equal.

2. Claim
While there are several definitions of the word claim, the legal definition is a request or demand to a court to enforce the legal right to seek compensation for property or money owed to you. For instance, in the event of an injury-related truck accident, you would make a property and personal injury claim against the driver responsible. If a fatal accident occurs, a wrongful death claim may ensue.

3. Lawsuit
If a claim settlement outside of court is denied, the next step in your car or truck accident case might involve a lawsuit. A lawsuit is a formal action that occurs in the United States civil courts. Lawsuits usually start with a plaintiff filing a complaint, which is a document that details what happened and the legal basis for bringing the lawsuit.

4.Plaintiff or Claimant
If you were injured in a car accident and have filed a claim/lawsuit, you are the plaintiff. The simplest definition, however, is that a plaintiff is the person who brings a claim against another person or party.

5.Defendant
When a car or truck accident occurs, the defendant is the person or party whom a claim is brought against. This is usually the person who appears to have caused the accident.

6. Liability
One of the first things that you may experience following an accident is an insurance company trying to determine liability, or who was responsible for the incident. It is important that liability is assigned as that may affect your settlement and outcome of your case or claim.

7. Statute of Limitations
Some people may assume that you can file a lawsuit or claim whenever you have the time. Legally, that isn't the case. Every type of case and claim has a statute of limitations, or a (strict) time-limit in which you can file a claim.
For example, in New Mexico (per NMSA 37-1-8) you have three years from the date of a car or truck accident to file a personal injury case that was caused by another party. This three years also applies to a wrongful death claim, but this is from the date of the victim dies, rather than the date of the accident (NMSA 42-2-2). Lastly, New Mexico Statutes Annotated section 37-1-4 states that you have four years from the accident to file your claim for property damage.

8. Loss of Consortium
Sometimes in an accident, a loved one dies. The emotional distress caused by the loss of the loved one who passed is called a loss of consortium. For this to be a valid claim in court, the plaintiff must prove that the defendant owed them a duty of care and that they are close enough relationship in the eyes of a court.

9. Negligence
Following an accident, insurance companies look for ways to determine negligence. In the case of a vehicle accident, negligence occurs when a driver fails to use reasonable care that results in personal injuries/damage to another party. Examples of negligence could include drunk or distracted drivers getting behind the wheel and then colliding with another vehicle resulting in injury and property damage.

While this list is by no means comprehensive, Lerner and Rowe hopes to make your car or truck accident case a little less intimidating. If you have any further questions or have suffered an injury in a car or truck accident, please contact us today. We answer our phones 24/7 at 844-977-1900. You can also utilize our LiveChat service or fill out our form to get the help you deserve. We take no fee unless we win your case, and offer free consultations so there's no risk to contacting us.