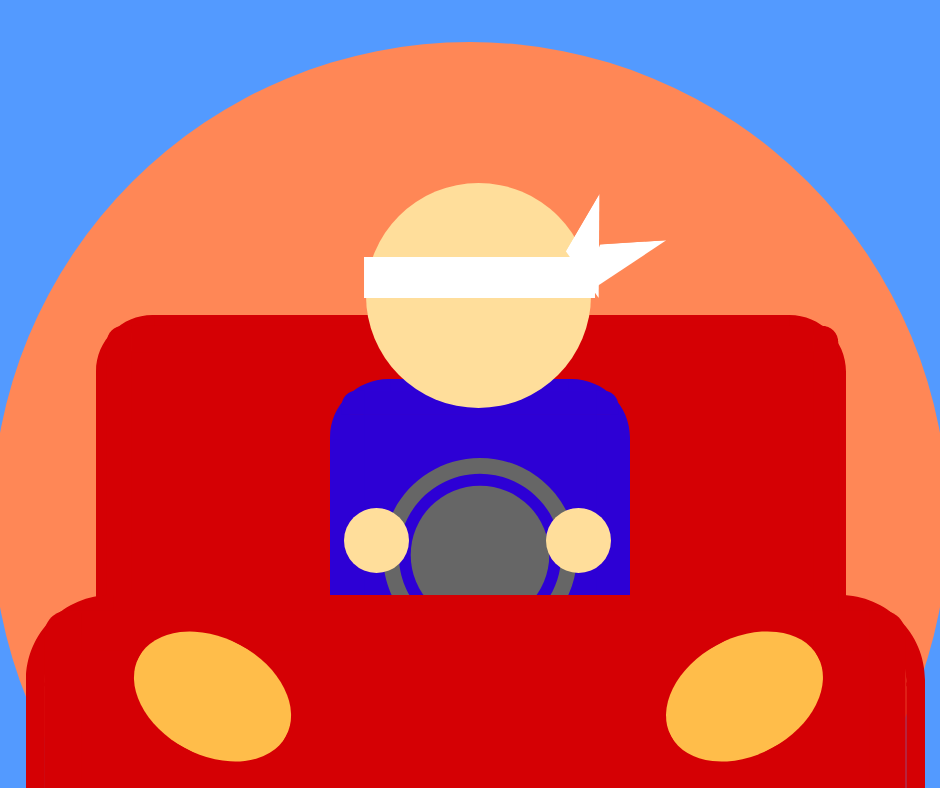 Distracted driving is a serious problem on roads across America. According to Distraction.gov, 1,000s of people are killed each year because of crashes caused by distracting driving, and nearly a half million more people are injured.

No matter how brief the time period, any time your eyes are off the road, your hands are off the wheel/your mind isn't on the task of driving, you're in a dangerous driving situation.

Our Yuma personal injury lawyers want you to avoid wrecks on all your road trips by avoiding common distractions while you're driving. So, we have compiled this guide to help you remember all the safety precautions you should take while on Arizona roads.

Also, if you happen to be injured in a crash that was caused by a distracted driver, be sure to call Lerner and Rowe Injury Attorneys today!
The Top Ten Driving Distractions
Again, according to Distraction.gov, approximately 660,000 drivers across the country are using cellphones or other devices while driving at any given time during the day.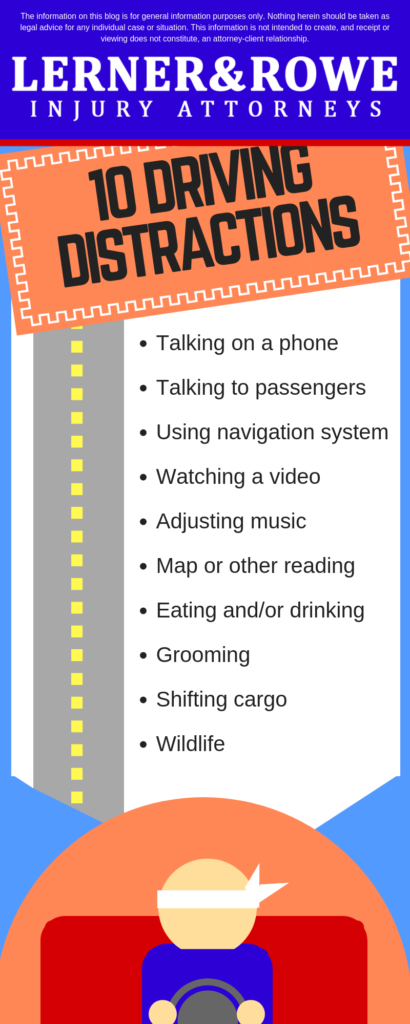 To put that in perspective, the five seconds your eyes are off the road while texting is like traveling the length of a football field blindfolded.

Talking on a phone
Talking to passengers
Using a navigation system
Watching a video
Adjusting music
Map or other reading
Eating and/or drinking
Grooming
Shifting cargo
Texting is the most often cited distraction, but other common distractions include:

Besides self-inducted distractions, other distractions occur on the road itself. This can be especially true in Arizona with its abundant wildlife. Jack rabbits and road runners darting out in front of you can also cause a dangerous distraction.
So, How Can I Avoid Driving Distractions?
Just can't miss that new episode of your favorite show? Have a particularly loud passenger onboard? Here is your guide to remaining focused on the road.
Talking on a Phone
Keep your phone accessible but out of sight so you aren't tempted to glance at it when a notification arrives. Also, keep it on silent mode so you don't hear the alert and are tempted to sneak a peek. Even when your phone isn't in your hand, it doesn't mean you've completely eliminated the distraction. Only use your phone after safely pulling off the road.
Talking to Passengers
Sometimes the people in your car can be your biggest distraction. Be honest with them (and blunt if you have to be!) and tell them their behavior is bothering you. If you are the one unable to keep your eyes on the road while talking, consider switching to the passenger role.
Using a Navigation System
While navigation systems are extremely helpful, especially in new places, they can cause severe accidents. If a driver's eyes leave the road even for a second to check where they are headed, disaster can strike. Combat this by setting your destination before hitting the road and researching your route to familiarize yourself. Also, purchase a mount for your system or smartphone so it is as hands free as possible.
Watching a Video
While this should be a no-brainer, do not watch videos while you are driving. Especially in today's streaming and on-demand culture, you will certainly be able to watch the video when you reach your destination.
Adjusting Music
Also, don't adjust music on the fly; deal with what's playing until you can stop and change the tunes safely.
Map or Other Reading
Like navigation systems, research your route beforehand. Do not attempt to read a map while driving. If you must check your map en route, ask a passenger to help you out.
Eating/Drinking
You should always keep two hands on the wheel. Especially during long road trips, it may be tempting to have an entire meal while driving. You deserve a break! Eat your Jimmy John's at the restaurant; you'll be more refreshed for the rest of your trip anyway.
Grooming
Perhaps you've seen someone doing their makeup at a stoplight. Maybe you've brushed your teeth on the go. No matter how late you are, do these things at home or at your destination. Your safety and the safety of those around you is at stake.
Shifting Cargo
Say you're moving, and one of the many boxes behind you has fallen. You're concerned- was that the one with towels, or the one with Great Grandma's vase? Do not attempt to find out while driving. Find the safest way to pull over and secure your cargo.
Wildlife
Deer, rabbits, roadrunners, and many other creatures can pose a threat to your drive through Arizona. Take note of when these animals are usually out- feeding time or sunset is very common for deer. Scan the road while you drive, looking for movement at the shoulder and the reflections of small eyes. If you notice signs that an animal may be near, slow down. Don't be afraid to lay on your horn and scare them away if they begin to cross.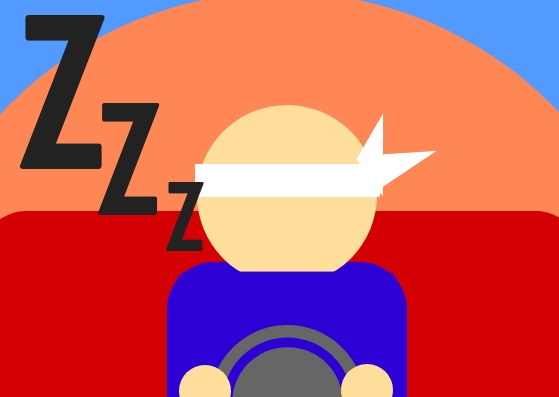 BONUS: Get Some Rest!
Sleep deprivation is another form of distraction because it causes you to lose focus on the road. Avoid driving when you haven't gotten the recommended seven to nine hours of sleep nightly.
A Note on Cell Phone Usage
While many states are cracking down on cell phone usage/texting while driving, Arizona is only one of four without some form of texting ban or limitation. Currently, Arizona bans only include a ban on cellphone usage by school bus drivers and brand new drivers. New drivers also have a text messaging ban. However, there are no text messaging bans for drivers over 18, according to the Governors Highway Safety Association.
Hire Skilled Yuma Personal Injury Lawyers
If you've been injured in an accident caused by distracted driving or any reason, contact Lerner and Rowe Injury Attorneys for a free consultation. Our Yuma personal injury lawyers are available to help you 24 hours a day, so call us today at 928-344-6200, or get in touch with us via our LiveChat feature.

The information on this blog is for general information purposes only. Nothing herein should be taken as legal advice for any individual case or situation. This information is not intended to create, and receipt or viewing does not constitute, an attorney-client relationship.