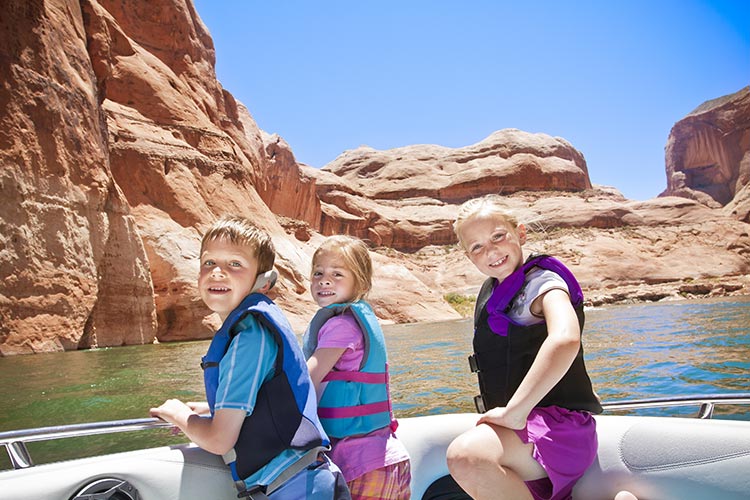 If you love boating, Bullhead City is a dream come true. You can rent any type of watercraft or launch your own at a number of locations along the mighty Colorado River or at Katherine Landing on beautiful Lake Mojave.
Enjoy Safe Boating over Fourth of July Weekend in Bullhead City
Will you be spending the holiday weekend afloat? Our highly skilled board certified personal injury and boating accident attorneys in Bullhead City offer some tips to keep you on the water and out of the emergency room.
Follow the Rules of the Waves
Boating may be a recreational activity, but operating any type of watercraft is a serious responsibility. The Arizona Game and Fish Department has several online resources for boaters, including information about registration, rules and regulations, and water safety courses.
Check the Weather
Getting caught in a storm on the water can be both dangerous and frightening. Always check the weather conditions before leaving. Regardless of the forecast, head for shore if you spot darkening clouds or experience a sudden drop in temperature.
Buckle Up
According to the 2015 Recreational Boating Statistics Report from the United States Coast Guard, 85 percent of boating accident fatalities were not wearing life jackets. Use of a life jacket or personal floatation device (PFD) should be as much of a habit as use of a seat belt in a motor vehicle.
File a "Float" Plan
When you head out in your boat, make sure someone has the details of your trip, whether it's a friend, family member or marina staff. Information should include:
Your planned route, as well as time of departure and estimated time of return
Names and phone numbers of the leader and all passengers
Boat type along with any identifying license or registration numbers
Avoid Alcohol
The USCG 2015 report also reveals that alcohol is the primary contributing factor in 49 percent of boating accident casualties. Save the alcoholic beverages for BBQs on dry land.
Boating Accident Attorneys in Bullhead City
If you or a loved one becomes a victim of a boating accident this Fourth of July weekend, contact our experienced boating accident attorneys in Bullhead City for a free consultation. You are just one phone call, chat or click away from the best personal injury representation in Arizona.