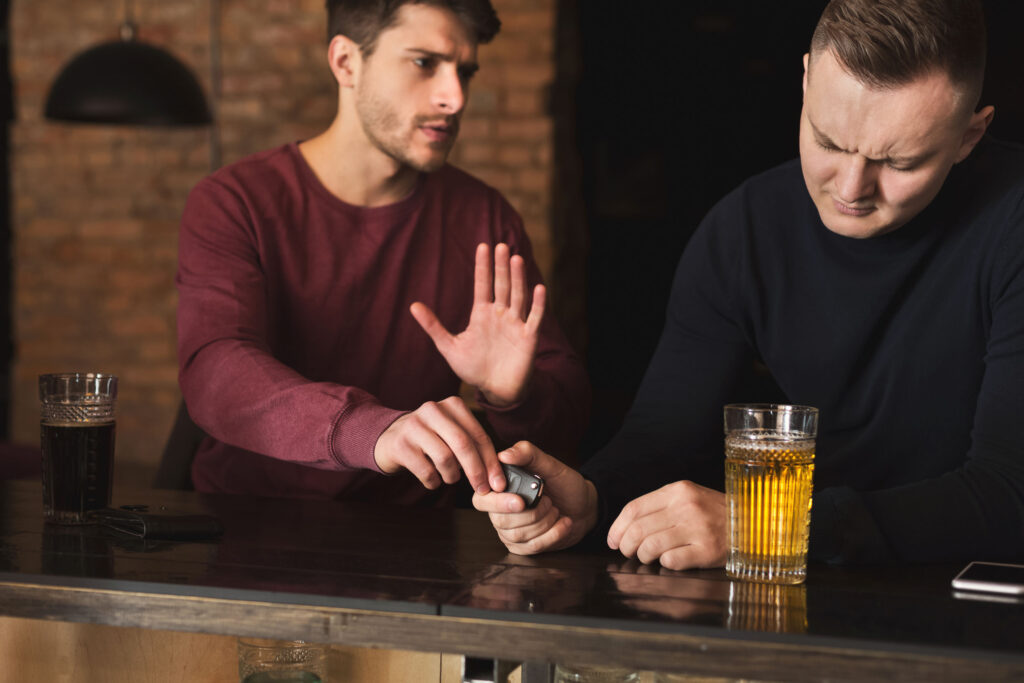 Driving under the influence of alcohol is a serious issue in Arizona and throughout the United States. According to the Arizona Department of Transportation (ADOT), there were 4,506 alcohol-related traffic accidents in 2020, resulting in 181 fatalities and 2,863 injuries. While those numbers were down from 2019, keep in mind that there were fewer drivers on the road in 2020 due to COVID-19 restrictions.
Drunk driving crashes are avoidable, and everyone—even someone who would never think of getting behind the wheel drunk—has an important role to play in the prevention of these types of accidents. Check out these tips from the Phoenix personal injury lawyers at Lerner and Rowe Injury Attorneys to help put an end to drunk driving in Arizona.
#1: Know Your Limits
The phrase "know your limits" is one you hear frequently regarding alcohol consumption. But what does it actually mean to know your limits, and how do you go about finding what your limit is without risking a DUI, injury, or death? The answer isn't always simple, and it will vary from person to person based on age, gender, weight, metabolism, muscle mass, medications you've been taking, alcohol tolerance, and other factors like how well-rested, hydrated, and fed you are.
For example, two glasses of wine over the course of dinner might leave you slightly buzzed, while the same amount of alcohol on an empty stomach might have you feeling more than just a bit tipsy. Knowing your limits is about more than just limiting yourself to a fixed number of drinks anytime you go out. You also need to keep in mind how those drinks may affect you under different circumstances and adjust your limits as needed.
To prevent yourself from getting too inebriated too quickly (which often leads to poor judgment calls, like continuing to drink beyond your limits), take it slow: eat a meal beforehand, stick to one alcoholic beverage per hour, and drink plenty of water in between.
#2: Bring a Designated Driver
Anytime you're out drinking with friends, it's a wise idea to bring a trustworthy designated driver. Drawing straws isn't always the best way to go about picking a designated driver, though. For many, the temptation of drinking once they're in a bar or at a party is just too high. It's important to remember that even a small amount of alcohol in someone's system can affect their judgment—including their own perception of whether they're actually safe to drive.
For this reason, be sure to pick a designated driver you know you can rely on to abstain from drinking for the night. Alternatively, if your driver doesn't want to babysit you in the bar all night, they can drop you off and pick you and your group up at the end of the night.
#3: Have a Backup Plan
Anytime alcohol is involved, it's always a good idea to have a backup plan. If your designated driver abandons their duties and ends up drinking, or if you accidentally overindulge, having a plan B can save you time and money and prevent drunk driving in Arizona. Luckily, Phoenix offers plenty of ways for people to get around without having to get behind the wheel. Keep these resources in your back pocket on the off chance that you ever find yourself stranded:
Uber or Lyft. Summoning a rideshare service (and even some local cab companies) is as easy as sending a text message these days. This is an excellent, reliable backup plan for when your original transportation falls through.
Valley Metro provides light rail service in addition to local, express, and RAPID commuter bus service. These run as early as 4:40 a.m. and as late as 11:00 p.m. Monday through Thursday, and as late as 2:00 a.m. on Friday and Saturday nights.
Designated driver services can be incredibly helpful if you're afraid of your car getting towed. A quick Google search for designated driver services in Phoenix shows multiple options for getting you and your vehicle home after a night of drinking.
Call a family member or friend. No one wants to be that guy calling their roommate or sibling to come pick them up at 3:00 a.m., but when you consider the alternatives (getting arrested for DUI or getting into a car accident), it's always worth asking a trusted family member or friend to come pick you up if you've had one too many.
#4: Never Get in a Car with Someone Who's Been Drinking
It should go without saying never to let an inebriated person drive you home, yet passengers get injured in drunk driving accidents caused by their friend or family member all the time in Arizona. It may be uncomfortable taking the keys away from someone you care about, but it's crucial that you make every effort to stop a drunk driver, including removing yourself from harm's way.
If you know your friend has been drinking or if they show any signs of impairment, don't get into a vehicle with them. If they become combative or drive away and you feel concerned for their safety or the safety of others, call 911 to report a drunk driver.
#5: Know How to Spot a Drunk Driver on the Road
All too often, those injured or killed in drunk driving accidents are the ones who were simply minding their own business or following the rules of the road. It's impossible to control other drivers' actions, but motorists can arm themselves with defensive driving skills and learn how to spot (and avoid) suspected impaired drivers. The following may be potential signs of drunk driving in Arizona:


Weaving in and out of lanes
Accelerating or stopping quickly
Irregular or erratic braking
Incorrectly using turn signals
Driving at night without headlights
Driving too slowly
Driving on the wrong side of the road or highway
If you spot what you think may be an impaired motorist, remove yourself from their path immediately. If you have a passenger with you, have them call 911 and report as much information as possible about the vehicle and its location. If you're driving alone, be sure to pull over safely before using your cell phone.
Legal Help Is Available for Drunk Driving Accident Victims
If you or a loved one has been injured by a drunk driver, you should know that you could be entitled to significant compensation. Drunk driving crashes can result in particularly serious injuries, including broken bones, traumatic brain injuries, paralysis, burn injuries, and more. These injuries can add up to hefty medical bills, long hospital stays, permanent disability, lost wages, and more.
A personal injury settlement may be able to help you pay your expenses and get your life back on track after a motorcycle, bike, or pedestrian accident caused by drunk driving in Arizona. To find out if you may qualify (and how much your case may be worth), contact Lerner and Rowe Injury Attorneys 24/7 by calling 602-977-1900.
We have law offices conveniently located throughout Arizona in Phoenix, Tucson, and beyond. You can also get in touch with us online by connecting with a LiveChat agent or by sending us a brief message about your accident claim.
The information on this blog is for general information purposes only. Nothing herein should be taken as legal advice for any individual case or situation. This information is not intended to create, and receipt or viewing does not constitute, an attorney-client relationship.