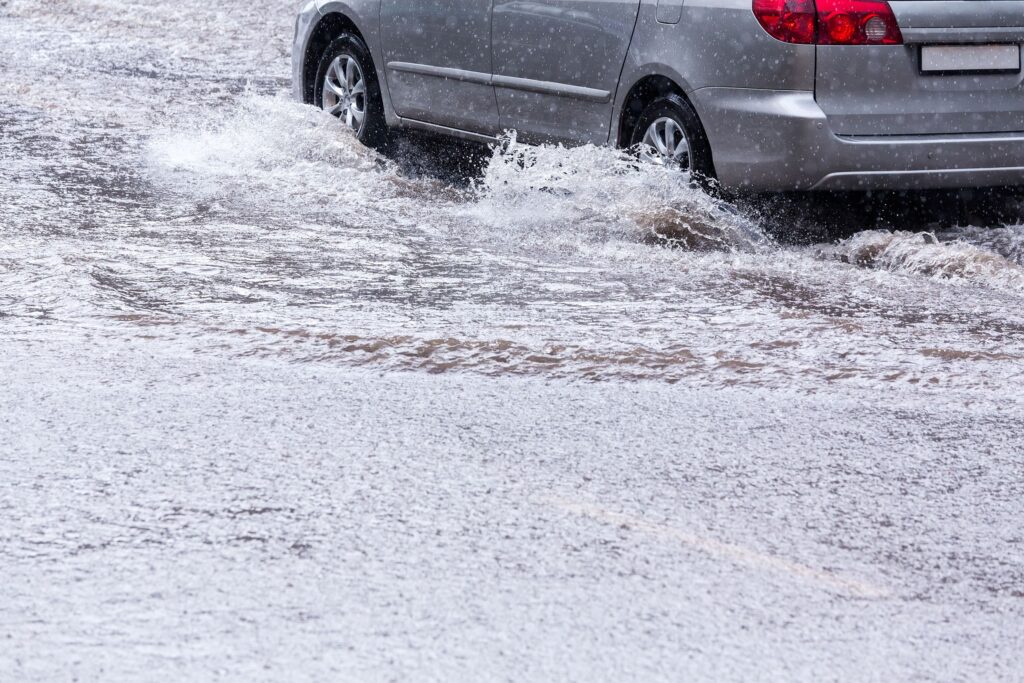 Las Vegas monsoon season normally starts in mid-June and lasts through September. In addition to the extreme heat and dryness Nevada is known for, this time of the year is often marked by heavy thunderstorms. In the wake of these mini-monsoons, flash flooding commonly occurs, roads are covered with foliage and debris, and streets are rendered slick from rain coupled with automotive discharge.
As you can imagine, Las Vegas monsoon season creates conditions where car accidents are more common. Fortunately, there are many things you can do to keep your passengers and yourself safe during a monsoon. Here are Lerner and Rowe's safety tips for the Las Vegas monsoon season.
Be Familiar with Monsoon Hazards
Monsoons add many treacherous elements to driving. Some of them are obvious, while others are less so. Safety begins with being familiar with potential dangers. Here are some things to look out for during Las Vegas monsoon season.
Heavy Rain: Strong precipitation makes roads more difficult to drive on and can cause spinouts when brakes are engaged heavily.
Flash Flooding: Heavy flooding impedes driving, can introduce large objects to the road, and, in extreme cases, be strong enough to move cars.
Lightning: Although extremely rare, lightning can hit a car and render it unusable. It can also strike objects like trees and cause them to fall on the road.
Dust Storms: Monsoons can generate dust storms that can severely limit visibility while driving.
Downburst Winds: Monsoons can also generate winds in excess of 50 mph.
Wildfires: Hot and arid weather usually precedes monsoons. This can result in wildfires. The same is true for monsoons that are light on rain, but heavy on lightning.
Slick Roads: Various car fluids get left on Las Vegas roads. Since it rains infrequently in Nevada, the layers of automotive discharge can get very thick. When rain is introduced, the mixture can make roads dangerously slick.
Driving During a Nevada Monsoon
After a monsoon has started, the best thing to do is not drive. If possible, wait out the storm until it has stopped or the intensity has lessened. If you're at home, then spend some time tidying up or organizing. If you're at work, continue any projects you're working on or simply relax in a safe environment. If you're at a mall or other entertainment venue, then you'll have plenty to keep you occupied while the monsoon rages on.
If you absolutely must drive during a monsoon, then please exercise the utmost caution and drive at or below the speed limit. The same goes for when a monsoon strikes in the middle of your drive. If conditions become really harsh, then simply pull over to a safe location and wait for the weather to settle down.
Remember, there is absolutely nothing wrong with pulling over to the side of the road or waiting in a quiet residential area. The safety of you and your passengers is more important than getting to your destination a little sooner.
The key takeaways for driving during a monsoon are:
Slowing down in order to maintain control of your vehicle
Never crossing flooded washes
Rerouting your course during a heavy dust storm
Pulling over if the weather makes it too difficult to drive
Keep Monsoon Necessities in Your Car
You never know how long a monsoon will last. Some storms strike for a few minutes, while others last for hours. It's important to have the necessary supplies in case of the latter. During Las Vegas monsoon season, you'll want to keep the following in your car:
Bottled water
Non-perishable food
A first aid kit
A rain jacket
An umbrella
Sturdy shoes
Injured on the Road or Highway?
If you've been injured because of negligence while on the road or highway during the Las Vegas monsoon season, you may be entitled to compensation. Please contact a car accident attorney at Lerner and Rowe Injury Attorneys for a free consultation. Our skilled attorneys will listen to your situation with care and fight for you in court with vigor. 
You can visit a Lerner and Rowe automobile accident lawyer Monday through Friday between the hours of 8:00 a.m. and 5:00 p.m. We're also available 24/7 by phone at 702-877-1500 or online through our convenient LiveChat and secure contact form features.
The information on this blog is for general information purposes only. Nothing herein should be taken as legal advice for any individual case or situation. This information is not intended to create, and receipt or viewing does not constitute, an attorney-client relationship.