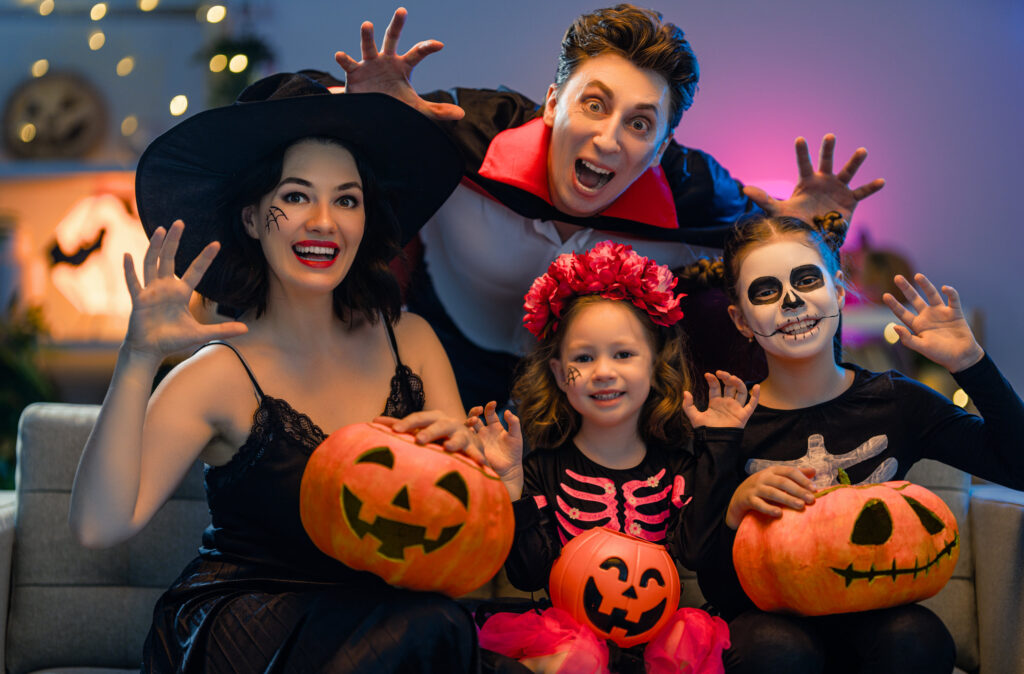 Carving jack-o'-lanterns, dressing up in costumes, and collecting treats are all part of the scary good fun children look forward to during Halloween in Las Vegas, but real dangers lurk. Halloween hazards include accidental burns, cuts, and costume-related injuries, but motor vehicle accidents involving pedestrians top the list. To help you and your family have fun and be safe, the personal injury lawyers at Lerner and Rowe present this safety guide for Halloween in Las Vegas.
Pedestrian Fatality Facts
The ongoing popularity of zombies makes dressing up as the "undead" common, but no one wants to become a real-life fatality. Motor vehicle accidents involving pedestrians spike when more people are out and about like they are on Halloween. In fact, children are more than twice as likely to be hit and killed by a car on Halloween than any other day of the year.
According to the Governors Highway Safety Association (GHSA), pedestrian accidents have increased annually every year between 2010 and 2019. The agency reported that Nevada pedestrian accidents rose 8% between 2019 and 2020.
The Nevada Department of Transportation (NDOT) claims that 63% of pedestrian fatalities take place on streets without a crosswalk and 76% of them occur after dark. With higher-than-average foot traffic at night, Halloween in Las Vegas is especially dangerous for trick-or-treaters.
Safety Tips for Parents of Trick or Treaters
Halloween safety begins at home with parents providing trick or treating guidelines. Children under the age of 12 should not trick or treat alone at night without adult or older sibling supervision. Older children going out alone or accompanying younger siblings should:
Plan a route that's safe and familiar using a tool like Nextdoor's Treat Map
Stick to well-lit areas
Trick or treat in groups
Agree on a set time to return home
Never enter a stranger's home or car for Halloween treats
Politely turn down home-baked goodies
Not eat any treats until they return home for a thorough inspection
Your children should also carry a cell phone and understand what to tell a 911 operator in emergencies. However, distracted walking causes accidents just like distracted driving. Remind children to keep their heads up, not on the phone, and walk, not run, across streets.
Halloween in Vegas at Home
Some people prefer to stay at home during Halloween, whether it's to help neighborhood kids have fun or due to COVID-19 concerns. Whatever the case may be, there are a number of things you can do to increase your safety and the safety of trick-or-treaters. The include:
Turning on porch and exterior lights to ensure good visibility and create a bright and safe atmosphere
Removing trip hazards from your porch and front yard, including toys, bikes, garden tools, and lawn decorations
Brushing wet leaves and other debris from walkways and porch steps
Keeping candle-lit jack-o'-lanterns away from walkways, landings, entryways, and curtains
Opting for artificial candles or lights, instead of real flames
Avoiding overloading electrical outlets with exterior lighting or decorations
Restraining pets to prevent them from accidentally jumping on or biting trick or treaters
Costume Safety Tips
From the youngest tot to the oldest adult, anyone dressing up for Halloween, or any occasion, should remember that ill-fitting costumes cause all sorts of scary injuries. The American Academy of Pediatrics offers numerous safety tips to keep costumes creative and less likely to cause injuries:
Select costumes, shoes, masks, and accessories that fit correctly to prevent blocked vision, slips, and falls
Choose light or bright, vivid colors to ensure you are seen at night
Choose reflective material or add strips of reflective tape to further increase your visibility
Purchase flame-resistant costumes, wigs, and accessories.
Choose a mask that does not obstruct vision
Never wear decorative contact lenses without prior approval from an eye care professional to avoid inflammation, pain, serious eye infections or disorders, or permanent vision loss
Pick swords, knives, staffs and similar costume accessories that are soft, lightweight, and flexible to avoid puncture injuries
Halloween in Vegas for Teens
Teens who feel they are too mature for trick-or-treating may still want to celebrate Halloween in Las Vegas with their peers. Embracing the Halloween spirit can lead to questionable behavior and pranks that could have you looking for a personal injury lawyer or an experienced criminal defense attorney. Remind your teens of the consequences of destructive Halloween antics.
Halloween parties also present other dangers. Topping the list is underage drinking and driving. Nevada's consequences for underage drinking and driving are severe. Nevada's teen driving curfews also state that drivers under age 18 cannot drive between 10:00 p.m. and 5:00 a.m. unless they are travelling to or from a scheduled school or work event.
Clark County and Las Vegas also hold teens to local curfews, which make it illegal for anyone under 18 not working or accompanied by a parent or guardian to hang out on public streets or places:
10:00 p.m. – 5:00 a.m. (Sunday-Thursday)
12:00 a.m. – 5:00 a.m. (Friday and Saturday, non-school days)
9:00 p.m. – 5:00 a.m. (On the Strip or Downtown, Friday and Saturday)
Halloween in Vegas for Drivers
Expect more pedestrians than usual on Halloween, including excited and unpredictable children. Popular trick or treating hours are between 5:30 p.m. and 9:30 p.m., so be extra vigilant during these hours and follow these driving safety tips:
Slow down and be on high alert in residential neighborhoods
Watch for children at intersections and on roadways, medians, and curbs
Keep your eyes and ears on the road
Eliminate distractions by putting your phone down and keeping radios and other noise to a minimum
Slowly and carefully back up and enter/exit driveways and alleys
Never drive drunk; find a sober driver, take public transportation, or call for a taxi or Uber
Decrease the increased holiday traffic by avoiding driving on Halloween evening, if possible
Injured During Halloween in Las Vegas? Call Lerner and Rowe.
In a wreck? Need a check?™ If you or your child suffers an injury on Halloween, or anytime of the year, turn to one of Las Vegas' top personal injury law offices. Lerner and Rowe Injury Attorneys has the team that will bring experience, skill, and passion to your case. We offer you a free initial consultation, and we won't be concerned with fees unless we win your case. Visit our office from 8:00 a.m. to 5:00 p.m, use our LiveChat feature or call us anytime at 844-977-1900.
The information on this blog is for general information purposes only. Nothing herein should be taken as legal advice for any individual case or situation. This information is not intended to create, and receipt or viewing does not constitute, an attorney-client relationship.