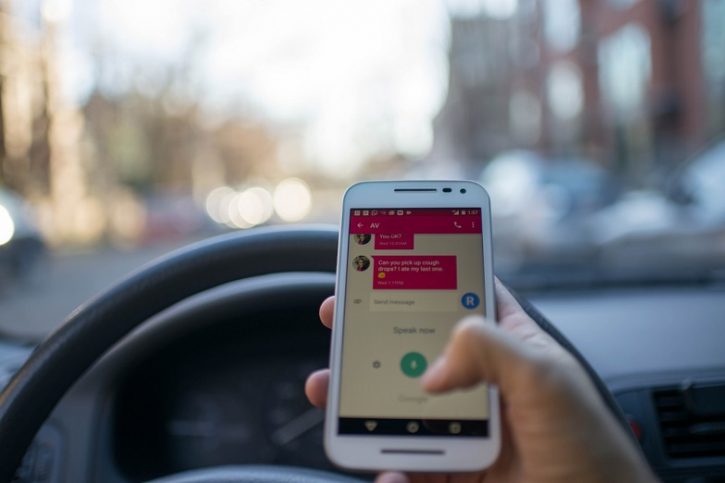 Despite the known dangers, the number of distracted driving accidents continues to grow each year. In 2015, almost 3,500 people were killed in car accidents caused by a driver engaging in distracted driving behaviors.
The National Safety Council has classified distracted driving as a national epidemic and has declared April Distracted Driving Awareness Month.
Distracted Driving Awareness Month
One of the most common – and deadliest – forms of distracted driving is the use of cell phones and other hand-held devices. One of the most dangerous: Texting while driving. When a person is reading or sending a text, their eyes are off the road for an average of five seconds.
That may not seem like a long time, but if you are driving at 55 mph, you will travel the length of a football field. Now imagine driving that distance with your eyes closed because that is what is essentially happening when you text and drive.
In Illinois, it is against the law to use a hand-held cell phone. Drivers are only allowed to use hands-free devices or phones with blue tooth technology, but only if they are 19 years of age or older.
Hands-free tech
However, studies have shown even using hands-free technology as a dangerous distraction while driving .
And while much of the focus on distracted driving points to cell phone use, any kind of activity that takes your attention away from driving falls in the realm of discussion.
This includes:
playing with the vehicle navigation, radio, or entertainment systems;
talking to passengers in your vehicle;
or eating and drinking.
Anything that distracts you from keeping focused on the road equals a potential distracted driving crash waiting to happen.
In order to help decrease your risk of being in an auto accident, consider practicing these safe driving habits:
Finish personal grooming at home, before you get in your vehicle;
Try to avoid eating while driving by having meals or snacks before you leave;
Before putting your vehicle in drive, make all the adjustments with mirrors, seats, GPS system, etc.; and
Put all your electronics away so they will not be a distraction while you are driving. If you do have to call or text, pull over and do it while parked.
Contact us!
Unfortunately, no matter how we safely drive, other drivers fail to do the same. If you have been injured in a car accident caused by a distracted driver, contact a skilled Chicago personal injury attorney to discuss what your legal options are.
Our office hours range from 8:00 a.m.-5:00 p.m. Monday through Friday, and we also answer our phones at 844-977-1900 24/7. You can reach us through our online form or our LiveChat service. So don't wait! We look forward to hearing from you.