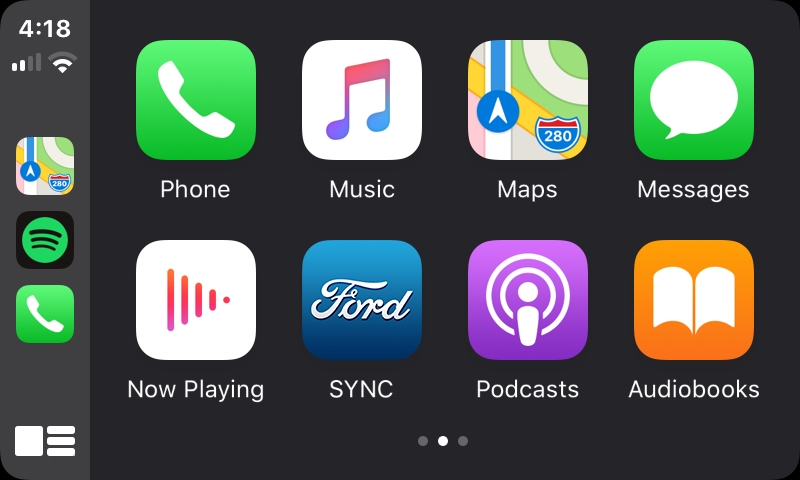 Android Auto and Apple CarPlay are two massive improvements over the infotainment systems that have been used in cars over the past few decades. Created by Google and Apple, respectively, they give drivers access to more functionality in a safe manner. However, the safety of these infotainment systems only applies if they're used properly. A study by IAM Roadsmart shows that when used improperly, these modern infotainment systems can dramatically increase distracted driving.
What Are Apple CarPlay and Android Auto?
Apple CarPlay and Android Auto are software suites that are the center of the infotainment system found in many modern cars. The former launched in 2014 and is built on iOS, while the latter launched in 2015 and is built on Android. Both systems require a large display for touch controls and a Bluetooth-connected phone for full functionality.
These infotainment suites allow drivers to access navigation, phone, text messaging, music, and more. They can be controlled by voice commands or touchscreen. Using voice control allows drivers to have hands-free control over a number of functions. When used in this fashion, Apple and Google give drivers greater control without sacrificing safety.
Touchscreen Use Can Be a Major Distraction
According to IAM Roadsmart's data, controlling Android Auto or Apple CarPlay via touchscreen is more distracting than texting and driving. The company charted the decrease of reaction times in various cases and found the following effects.
Percent Slowdown in Driver Reaction Time
12% DUI limit
21% Cannabis use
27% Hands-free phone use
30% Android Auto (voice control)
35% Texting
36% Apple CarPlay (voice control)
46% Handheld phone use
53% Android Auto (touchscreen control)
57% Apple CarPlay (touchscreen control)
While it's true that modern infotainment systems from Apple and Google allow drivers to access more functions, they can also be detrimental to safe driving. Using voice controls slows down reaction time similarly to hands-free phone use, but using a touchscreen has a more significant impact. After all, the driver must focus on the display instead of the road and take one hand off of the steering wheel to input commands.
There's no doubt that these new infotainment systems offer great convenience and power to drivers, but it's important that drivers do not use them in such a way that it detracts from their safety and the safety of their passengers. Keeping focused on the road and driving safely should always be a driver's top priority. Losing focus because of an infotainment system, even for a few seconds, could lead to a costly car accident.
Contact a Distracted Driving Accident Lawyer
Lerner and Rowe Injury Attorneys hopes that you use your car's infotainment system responsibly. However, our team understands that your fellow drivers may not do so. If you get into a car crash due to a distracted driver, please contact us for immediate assistance. Our courteous team and proficient attorneys will do everything in their power to ensure that you receive the compensation that you deserve.
You can reach us 24 hours a day, 7 days a week by phone at 844-977-1900. You can also reach through the Internet through our secure contact form and LiveChat options. If you're looking for high-quality legal representation backed by impeccable service, contact us today.
The information on this blog is for general information purposes only. Nothing herein should be taken as legal advice for any individual case or situation. This information is not intended to create, and receipt or viewing does not constitute, an attorney-client relationship.