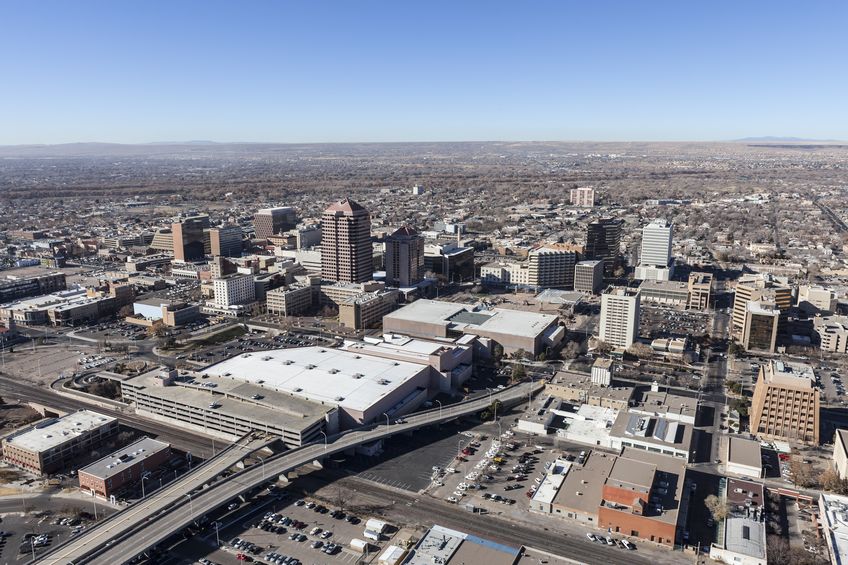 Do You Need a Car Accident Attorney in Albuquerque?
Car accident injuries happen every day. You leave for work and get a fender bender. You head out for a fun weekend in Taos, only to get struck by another vehicle on the highway. Unfortunately, these accidents often result in personal injury. Whether devastating or somewhat minor, these injuries can affect all aspects of your life. At the very least, they can certainly affect your wallet, and at most, you can lose your entire quality of life.

When these injuries happen, reach out to a skilled car accident attorney in Albuquerque: Lerner and Rowe Injury Attorneys. We specialize in handling cases just like yours. Call us today at 844-977-1900, or reach out online for a free consultation. We will fight for you and the compensation you deserve.

Common Car Crash Causes in New Mexico
Everyone knows car accidents can happen anywhere. Often, there are different kinds of car accidents that result in different injuries. Here are some common ways negligence causes car crashes.
Reckless Drivers
The term "reckless drivers" covers many different kinds of negligent driving scenarios. For instance, a reckless driver may cause an injury by being a(n):
Distracted driver and using bad habits like texting or eating while driving,
Drunk driver and getting behind the wheel while under the influence of alcohol,
Elderly driver that uses unsafe driving habits, or an
Aggravated driver who intentionally tries to harm others with their vehicle.
If any of these reckless drivers caused your car accident and subsequent injuries, call Lerner and Rowe Injury Attorneys today. Not only do we handle representing cases like yours, but we also handle all kinds of road accident scenarios, like:

Accidents involving more than two vehicles
Collisions that occur in intersections
Accidents that have a taxi cab or rideshare involved
Bus, big rig, or motorcycle collisions
Any accident that causes a wrongful death.
Car accidents can be caused by many factors and are often due to someone's negligence. When you search for a car accident attorney in Albuquerque, look no further than Lerner and Rowe.
Personal Injuries Caused by Car Accidents
Just why are car accidents usually so serious? A number of very serious injuries can result from a car crash. These injuries can affect you for the next few days, weeks, or maybe even the rest of your life. Every time you hit the road, you risk one of the following injuries.
Brain Injuries
Brain injuries, from concussions to Traumatic Brain Injuries (TBI), can occur when you hit your head inside your vehicle, against your windshield, or if you are thrown from the vehicle. Memory loss, speech and body control changes may occur. You may also experience personality changes and other neurological damage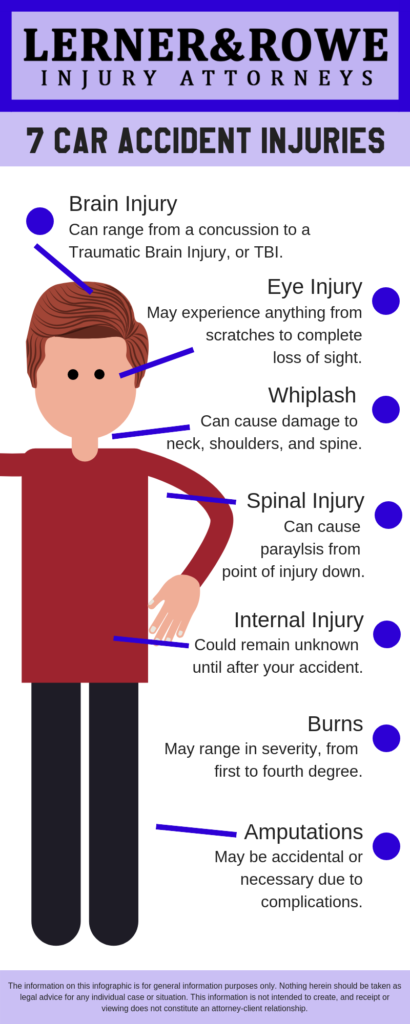 Whiplash Injury
This common injury can happen from even minor fender-benders. Whiplash is an injury to the neck that occurs when the body is suddenly thrown in a different direction. The head snaps forward, causing pain and other symptoms.
Spinal Injuries and Paralysis
Head and whiplash injuries often accompany spinal injuries. Spinal injuries are most severe when they result in paralysis. Injuries to the spine and spinal cord can include complete loss of bodily control from the point of injury down. In some cases, some control may be regained through physical therapy.
Spinal injuries can happen along with head and whiplash injuries. Spinal injuries are most severe when they result in paralysis. Injuries to the spine and spinal cord can include complete loss of bodily control from the point of injury down. In some cases, some control may be regained through physical therapy.
Amputations
Sometimes, because of the crushing impact of a crash or broken car parts forcing their way into your vehicle, you may suffer an accidental amputation. Additionally, broken bones may end up resulting in an amputation later if there are complications.
Internal Injuries
Frighteningly, you may not realize your internal injuries until after you leave the accident scene. Because of the sudden stops involved in many car accidents, your internal organs can suffer damage you don't initially notice. This is why it is very important that you always receive some sort of medical attention after being involved in an accident.
Burns
Any degree of burn injury may result from a collision if fuel and chemicals are involved. The most extreme burns happen in car fires when the victim cannot escape quickly enough. These injuries can cause severe burns, even affecting the bone.
Eye Injury
With any car accident, numerous injuries can occur at once. We don't normally consider our eyes when it comes to common car accident injuries. However, they can be severely injured as well. From a scratch to completely losing the eye or your sight in general, this can certainly change your life.
Damages from Car Accidents
After a collision, you need to find a car accident attorney in Albuquerque to win you compensation. You may wonder, "What can I be compensated for when it comes to my injuries?" Here are the answers.
Property Damages
Property damages cover the cost of anything you owned that was harmed. Obviously, this includes things like car repairs, tow trucks, and more. Sometimes, even if something is broken that was inside your car, you may be able to receive compensation for that as well.
Medical Expenses
When suffering from an injury, you go through a lot. Not only do you have pain, and probably new medications and side effects to deal with, but also you must meet medical bill costs. A personal injury lawyer can help you find compensation for these expenses.
Lost Wages
Many injuries cause you to miss our on work. This means that you also lose paychecks. In extreme cases, you may even lose your position at your job. Whoever was liable for your accident may be responsible for these costs.
Punitive Damages
Punitive damages may be applicable if the driver who caused your accident acted out of disregard or aggravation towards you. Be sure to take note of the behavior of the other driver at the time of the incident. This could be your evidence to possibly receive more compensation.
Pain and Suffering
Did you know that pain you are going through could be monetarily compensated? It can! This is why it is so important to have a car accident attorney on your side. They can work to get you your maximum compensation amount sooner than later, without you having to learn the intricacies of compensation and damages laws.
Injured? Hurry!
Due to New Mexico's statute of limitations, there is a limited amount of time for you to reach out to a lawyer and begin your case. So, don't wait! Call you car accident attorneys in Albuquerque- Lerner and Rowe Injury Attorneys- today!
More About the Best Car Accident Attorney in Albuquerque
Lerner and Rowe Injury Attorneys handle similar cases to those listed above. Their experienced legal team are ready to answer your phone calls and questions any time of the day or night. They are available to you any day of the year. Do not hesitate to reach out to them if you were injured in a car accident recently.

Call us now at 844-977-1900, or visit our physical offices at 100 Sun Avenue N.E. Ste 650 in Albuquerque. You can also fill out our contact form or utilize our LiveChat feature online at any time. We look forward to hearing from you!

The information on this blog is for general information purposes only. Nothing herein should be taken as legal advice for any individual case or situation. This information is not intended to create, and receipt or viewing does not constitute an attorney-client relationship.