** GIVEAWAY HAS ENDED – CHECK BACK NEXT YEAR **
Tucson Back to School Celebration | Backpack & School Supply Giveaway*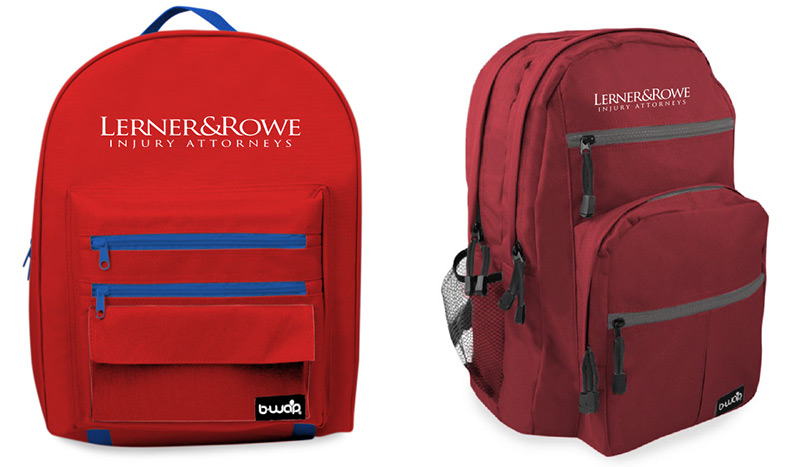 Lerner & Rowe Gives Away Backpacks & School Supplies To The First 400 People, Tuesday, July 24, From 5:30 p.m. – 7:30 p.m.!*
Lerner and Rowe's Tucson legal team hosts a back to school giveaway in celebration of the 2018-2019 school year! Activities planned include a backpack and school supply give away and free pizza, popcorn and cotton candy!*
All of the fun takes place on Tuesday, July 24, from 5:30 p.m. – 7:30 p.m. at 2943 N Campbell Ave., Tucson (Pizza Hut parking lot). Kevin Rowe will be present to help give away backpacks to the first 400 people to arrive!
Make sure that you get there early to pick up your backpack before they are gone.
Tucson Back to School Giveaway highlights include:
Radio Remotes!
Free backpacks, stuffed with school supplies!*
Free popcorn or cotton candy!*
Meet & greet with Kevin Rowe!
Now write down the following address so that you can find all the fun:
2943 N. Campbell Ave.
Tucson, AZ 85719
Our legal team looks forward to seeing you there. Please reach out to Cindy Ernst with any questions by calling 602-977-1900 or via email at [email protected].
*Backpacks, school supplies and food items will be handed out while supplies last.