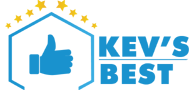 Kev's Best recognized Lerner and Rowe Injury Attorneys as Arizona's premier personal injury practice in Tucson.
Founded in 2011 by Kevin Osborne, Kev's Best is an Independent Blog, 100% locally-owned and operated. Businesses listed on its website can't pay to be listed.
One of the most significant aspects of the selection process involves major accomplishments, experience, industry impact, growth, quality of service, special achievements, and community engagements, as well as ratings and reviews.