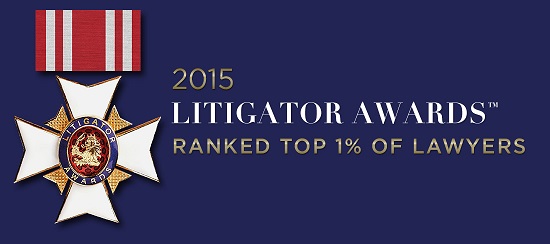 For the second year in a row – Lerner & Rowe, P.C. is honored to receive the prestigious 2015 Litigator Award for our law firm's extraordinary achievements by offering exceptional representation in the legal areas of:
This unrivaled annual award is a symbol of top "Litigation Achievement" among a select few law firms across the nation achieved by fewer than 1% of all lawyers in the United States.    
Lerner and Rowe's Achievements Stand Alone
The Litigator Award's selection process is among the most rigorous and openly judged trial law rating systems in the country. Winning a 2015 Litigator Award is a true sign of Lerner and Rowe's superior litigation achievements.
Nearly 1.1 Million lawyers were considered for the 2015 Litigator Awards. Our Phoenix-based personal injury law firm was selected to receive the 2015 Litigator Award based strictly on our "Verdict and/or Settlement" dollar achievements – not peer popularity.
Working with Lerner and Rowe Injury Attorneys
Do you need assistance with a personal injury case? If so, you can feel confident in knowing that our Arizona law team is prepared to aggressively represent you. We will work hard to get you the compensation you deserve.
Make one call to us now, submit an online form or chat with one of our live representatives now to set up a free personal injury consultation.