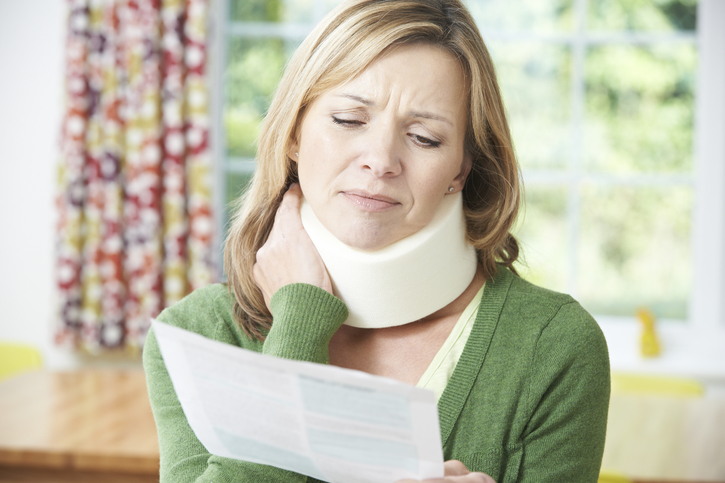 If you have been in an accident and are now experiencing stiffness or sore muscles, you may have suffered soft tissue injuries as the result of the accident. The most common of these injuries is whiplash. If you believe you may be suffering from a soft tissue injury, do not speak to an insurance adjuster until you consult with a qualified whiplash attorney. An attorney can help you provide the proper documents to the insurance company in order to achieve the best possible outcome in your case.
As soon as possible after an accident, see a doctor for a complete evaluation of your injuries. This will help to ensure a proper diagnosis and prognosis so that the medical costs can be accurately estimated when negotiating for compensation. Make sure to keep any documentation your physician provides for future evaluation. Questions? Contact us today.
Whiplash and Other Soft Tissue Injuries
You can sustain a soft tissue injury in a number of ways, but car accidents commonly cause you soft tissue injuries. If you believe you have sustained or have been diagnosed with any kind of soft tissue injury; regardless of the accident type, it is important that you contact a whiplash attorney immediately. So, don't wait. Contact us today.
Whiplash, Strains, and Sprains
Damage to soft tissue happen when ligaments, tendons or muscles undergo sudden and forceful tearing. After an accident your doctor may tell you that your pain is the result of whiplash, strains or sprains. These are all forms of soft tissue injuries. Other soft tissue injuries include stress fractures, sprained ankles or wrists and deep tissue bruising.
When you are diagnosed with a soft tissue injury or whiplash, the doctor may recommend long-term rehabilitative therapy or prescribe a medication regimen that will last for an extensive period of time. The treatment plan may be expensive and the time you spend away from work will result in lost wages. Your top priority should be healing from your injuries, not fighting with insurance companies for just compensation.
Whiplash Attorneys at Lerner and Rowe
Lerner and Rowe's team of professional whiplash attorneys will help take the stress of dealing with the insurance companies away from you so you can focus on healing. If you believe you are the victim of a soft tissue injury due to the negligence of another person, contact us toll-free today for a free consultation. If you are unable to visit one of our convenient office locations, we are happy to come to your home or medical facility.
You may also fill out the case evaluation form and we will contact you. Any information you provide Lerner and Rowe Injury Attorneys is confidential. Don't let the fear of costly attorney fees stop you from hiring qualified representation. At Lerner and Rowe Injury Attorneys we offer free case evaluations and accept injury cases on a contingency basis, which means you won't pay us unless you win.
Call us today at 844-977-1900, use our LiveChat or fill out our online form. Your consultation is free, so you have nothing to lose!