Lerner and Rowe Donates $2,500 to Camp Soaring Eagle for Seriously Ill Children
FOR IMMEDIATE RELEASE                                                                                Media Contact:
Kevin Rowe, Esq.
Lerner and Rowe, P.C.
(602) 977-1900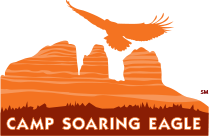 Phoenix, AZ. (October 5, 2016) – The law offices of Lerner and Rowe give back by donating $2,500 to Camp Souring Eagle. Contributions like theirs help make it possible for children with serious and life-threatening illnesses to have fun at a medically supervised camp at no cost. Archery, fishing, swimming and horseback riding are just a few of the highlights that make Camp Soaring Eagle a healing oasis powered by laughter and cheer.
"Camp Soaring Eagle is a special place. Seriously ill children that go here have the opportunity to take their mind off of hurting and just focus on having fun," stated Personal Injury Attorney Kevin Rowe. "We are thrilled to support the camp's many wellness programs and the caring team of volunteers and medical professionals that brighten the lives of these kids through the gift of laughter."
More details about Camp Soaring Eagle's amazing year-round programs and volunteer, donor and sponsorship opportunities are available now at campsoaringeagle.org.
More About Lerner and Rowe
For additional information about Lerner and Rowe's Phoenix personal injury attorneys call (602) 977-1900. To learn more about Lerner and Rowe Law Group, visit lernerandrowelawgroup.com or call (602) 667-7777.
To connect with the law firm socially, follow Lerner and Rowe on Twitter, or become a fan of their Facebook page. Also visit lernerandrowegivesback.com to learn more about the community services that the lawyers and legal support team of Lerner and Rowe actively support.
###