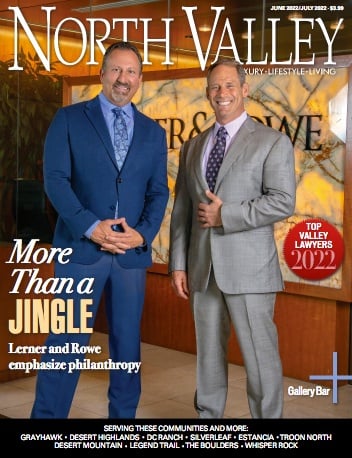 In this special feature edition of North Valley, Kevin Rowe and Glen Lerner discuss how there is more to the success of the Lerner and Rowe Injury Attorneys than just a catchy jingle and impressive advertising budget. More specifically, they attribute the firms over two decades of operation to an overall team effort in making philanthropy "the way to go" when helping clients and other community neighbors in need.
Read the full interview to learn more about Glen Lerner, Kevin Rowe, and how Lerner and Rowe Injury Attorneys grew from a one man firm to one with over 50 attorneys and roughly 400 support staff across Arizona, Nevada, California, Illinois, Indiana, New Mexico, and Tennessee.
You can also read more details about the inception of the firm's 501(c)(3) nonprofit foundation, Lerner and Rowe Gives Back.