Lerner and Rowe Sponsorship Used to Raise Funds to Fight Against Breast Cancer at Right Toyota's Annual Donor Casino Night – Real Men Wear Pink Wrap-Up Party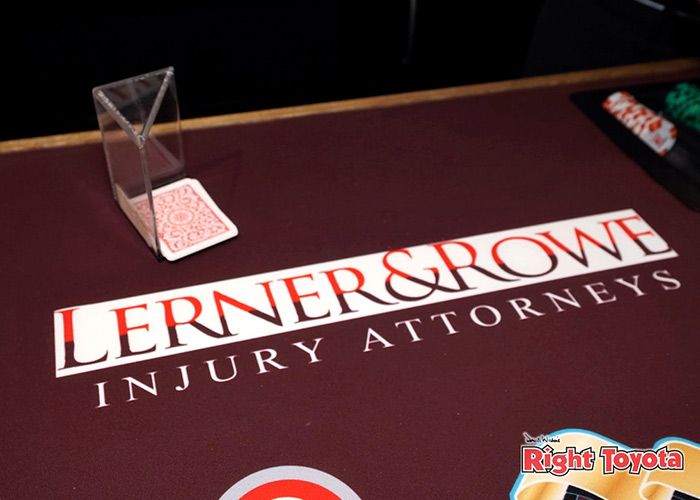 October 27, 2016 (Scottsdale, AZ) – Lerner and Rowe donated $1,500 to Right Toyota in support of the car dealership's October fundraising efforts to benefit the American Cancer Society of Phoenix. The law firm's charitable contribution will be used to offset costs associated with the dealerships annual donor casino night – Real Men Wear Pink Wrap-Up Party to take place on Friday, November 11th. Thanks to Lerner and Rowe's support and that of other donors, 100% of the proceeds from this fun and exciting night will go directly towards the final amount Team Right Toyota pays forward to the Phoenix Fight Against Breast Cancer campaign.
"My mother is a breast cancer survivor and I truly believe that together we can make a difference in the fight against this disease. That is why we continue to support Right Toyota in their annual efforts to raise awareness and funds in support of the American Cancer Society of Phoenix," said personal injury attorney Kevin Rowe.
Donors attending the fundraiser wrap-up party will be treated to $500 in free gaming chips, Heavy Hors D'oeuvres, beverages and chances to win items such as designer watches, Coach and Louis Vuitton Purses and much more. Contact Jane D'Amelio via email at [email protected] or by calling (480) 778-2238 to request more information about this private event.
More About Lerner and Rowe
For additional information about Lerner and Rowe's Glendale personal injury attorneys call (602) 977-1900. To learn more about Lerner and Rowe Law Group, visit lernerandrowelawgroup.com or call (602) 667-7777.
To connect with the law firm socially, follow Lerner and Rowe on Twitter, or become a fan of their Facebook page. Also visit lernerandrowegivesback.com to learn more about the community services that the lawyers and legal support team of Lerner and Rowe actively support.
# # #
FOR IMMEDIATE RELEASE                                                                                  Media Contact:
 Kevin Rowe, Esq.
Lerner and Rowe, P.C.
(602) 977-1900