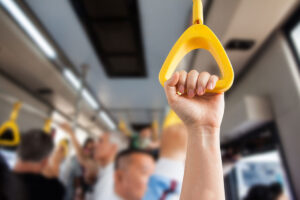 You may not think of riding a bus as a risky activity, but the truth is – you're putting your health and safety in the hands of every driver you ride with. As seen in this recent bus accident in Yuma that left several people injured due to driver error.
If you or a loved one has been injured in a bus accident, contacting a personal injury law firm can make all the differences in obtaining compensation for medical care and other damages.
Post-Accident Checklist
After being injured in an accident, you might feel disoriented and anxious. While these feelings are completely understandable, it's important to stay calm and clear-headed as best as you can. Keep the following step-by-step post-accident checklist in mind to help stay focused.
Step #1 – Call 911
Unless you're certain someone else has already contacted 911, you should call 911 as soon as possible after the accident occurs. Once emergency personnel arrive on the scene, try and stay calm while giving your account of what happened.
Step #2 – Seek Medical Attention
Being involved in any type of accident leaves you susceptible to a variety of injuries, many of which may go unnoticed at first. So even if you don't see or feel any immediate signs of injury, it's important to get checked out regardless.
Make sure you doctor tests your back, spine and head after the accident. This will not only ensure your health and safety, but it also gives you the documentation you need if you decide to go forward with a claims process.
Step #3 – Record and Collect Evidence
If at all possible, you will want to document the scene of the accident soon after it occurs. Take pictures of any damage, talk to the authorities, and keep all documentation you are given along the way.
Also, you will need detailed medical records if you are seeking compensation for medical expenses. Once you are in contact with a bus accident attorney, you'll give them copies of the documentation you've collected so they can help you build the strongest case possible.
Step #4 – Get the Bus Companies' Insurance Information
If you've been injured in a bus accident, it's important to know which insurance company will be responsible for the damages. Ask the bus driver to provide you with this information or contact the bus company yourself. Also, get the number of the bus involved in the accident and the driver's contact information too.
Make sure you also have suitable local legal representation. For a fighting chance, contact skilled attorneys in Arizona who will fight to get you the compensation you deserve.
The Road to Recovery
Don't wait until it's too late to file a claim, contact a bus accident attorney at Lerner and Rowe today to schedule your free consultation. Our office hours are 8 a.m. – 5 p.m., but we are available 24/7 to take your call at 928-344-6200.