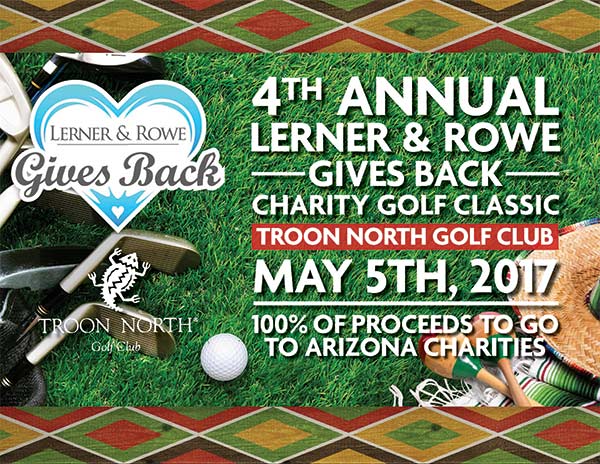 Scottsdale, AZ. (February 17, 2017) – The 4th Annual Lerner and Rowe Gives Back Charity Golf Classic is teed up to be even bigger and better than before! Last year's Charity Golf Classic raised just over $200k. This year's goal is to raise $250k; 100% of which will be given back to support local charitable groups and organizations throughout Arizona. Golfers, sponsors and volunteers will enjoy a fun and festive day of giving back and celebrating Cinco de Mayo among the beautiful setting of Troon North Golf Club (10320 E Dynamite Blvd., Scottsdale, AZ 85262). Event starts at 1:30 PM and will include an unforgettable helicopter golf ball drop challenge, celebrity appearances, amazing silent auction and raffle prize items and a delectable post-golf reception.
Lerner and Rowe Gives Back Charity Golf Classic
"I've said it before and I'll say it again – there are some fantastic national and international organizations doing great things for individuals. But, I truly believe that it is important for us to focus on making a difference locally. This is the fourth year for the Lerner and Rowe Gives Back Charity Golf Classic and thanks to the generosity of many community and individual sponsors, we are trending to surpass last year's goal of $200k," said Lerner and Rowe Gives Back founder, attorney Kevin Rowe.
Sponsorship and golfer packages are available while supplies last; the 2016 Charity Golf Classic sold out in advance. So, please contact Cindy Ernst at 602-952-3115, or go to lernerandrowegivesback.com/golf-partnerships/ to learn more and how to get involved.
More About Lerner and Rowe
For additional information about Lerner and Rowe's Phoenix personal injury attorneys call (602) 977-1900. To learn more about Lerner and Rowe Law Group, visit lernerandrowelawgroup.com or call (602) 667-7777.
To connect with the law firm socially, follow Lerner and Rowe on Twitter. You can also like their Facebook page. Also visit lernerandrowegivesback.com to learn more about the community services that the lawyers and legal support team of Lerner and Rowe actively support.
###
FOR IMMEDIATE RELEASE Media Contact:
Kevin Rowe, Esq.
Lerner and Rowe, P.C.
(602) 977-1900