Lerner and Rowe's Non-profit's 10th Annual Charity Golf Classic Sets $1 Million Donation Goal to Benefit Arizona Charities
FOR IMMEDIATE RELEASE
Media Contact:
Kevin Rowe, Esq.
Lerner and Rowe Gives Back
[email protected]
602-977-1900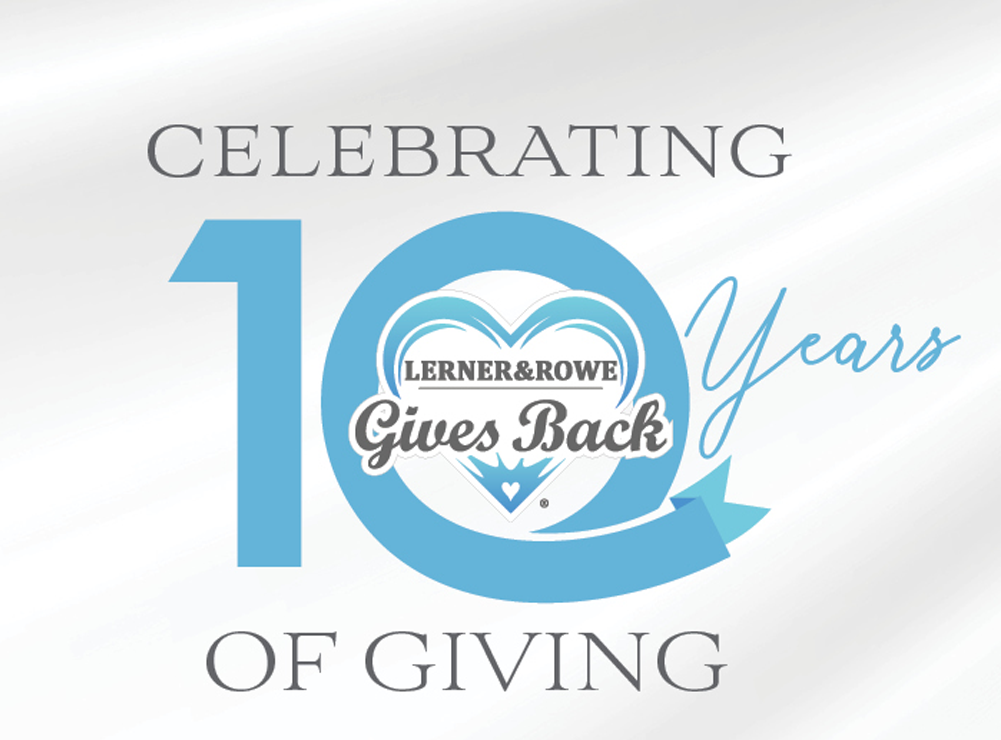 SCOTTSDALE, AZ (March 22, 2023) – The 10th Annual Lerner and Rowe Gives Back Charity Golf Classic will happen on Friday, April 28, 2023, at the McCormick Ranch Golf Club in Scottsdale, AZ. For 2023, the donation goal is set at $1 million. 100% of raised funds will be given back to local charitable programs and supportive services throughout Arizona including youth programs, health and human services, animal welfare, and public safety.
As co-founder of Lerner and Rowe Injury Attorneys and founder of the 501(c)(3) non-profit Lerner and Rowe Gives Back, Kevin Rowe provides further insight into what has made this annual fundraiser such a success year after after, "Without the continuous generosity of event sponsors, individual donors, volunteers, vendors, our families and team members, the annual Lerner and Rowe Gives Back charity golf classic would not have grown into the successful fundraiser it is today.
To put it in perspective, our collaborative efforts have made it possible for this one-day charitable event to garner a combined total of over $2.87 million over the past 9 years. For 2023, however, we've set a 1-million-dollar fundraising goal to increase last year's total by roughly 75%. And, based on preliminary calculations, we may just have some exciting news to share in the near future."
Here's a snapshot of what this one-day fundraiser has achieved since 2014:
2022 = over $569K
2021 = over $518K
2020 = over $461K
2019 = $420K
2018 = just over $285K
2017= just over $250K
2016 = just over $200K
2015 = just over $102K
2014 = over $67K
In addition to an afternoon of collaboration and giving back, Lerner and Rowe Gives Back's 10th Annual Charity Golf Classic will feature tons of swag items for each golfer, thirst-quenching libations, raffle drawings, drone golf ball drop, and lunch.
Sponsorship and donation opportunities are still available. Learn how to get involved at LernerAndRoweGivesBack.com/golf-event/, or contact Cindy Ernst by calling 602-952-3115 or via email at [email protected]
More about Lerner and Rowe
Lerner and Rowe Injury Attorneys is a powerhouse law firm in representing personal injury clients. Attorneys Glen Lerner and Kevin Rowe have grown their law firm into one of the largest personal injury firms in the country, with over 400 legal professionals around the country ready to help you 24/7 anywhere in the US. The law firm's continuous exalted levels of success can be attributed to the high levels of respect and dignity shown to victims and family members hurt in an accident.
For those injured outside of Arizona, Indiana, Illinois, Nevada, California, New Mexico, and Tennessee, Lerner and Rowe has an established network of attorneys across the country, ready to help. The firm takes pride in nourishing these relationships as they know a personal injury attorney can make all the difference in obtaining fair compensation for the pain and suffering inflicted upon the victims of tortious conduct.
For more information about Lerner and Rowe Injury Attorneys, please call 602-977-1900.
To connect with the law firm socially, follow Lerner and Rowe on Twitter, TikTok, and Instagram, or like their Facebook page. Also, be sure to visit LernerAndRoweGivesBack.com to learn more about how Lerner and Rowe earned the reputation for being more than just a law firm through the many community services its lawyers and legal support team actively support.
###