Lerner and Rowe Donates $10,000 to AZLEOS Project Blue – Back "Pack" to School, a community police back-to-school project, that directly benefits disadvantaged elementary school students in Maricopa County.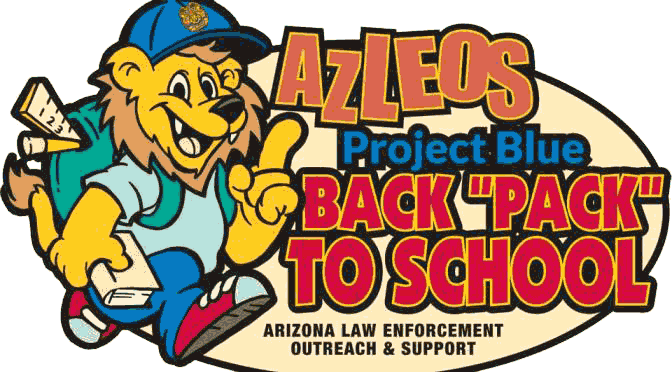 (Scottsdale, AZ) – The Law offices of Lerner and Rowe donated $10,000 to AZLEOS Project Blue – Back "Pack" to School charitable school supply drive. The donation will be used to purchase back to school items to fill 200+ backpacks, as well as gift cards, for students to purchase a new pair of shoes for the upcoming school year. Lerner and Rowe encourages others to also donate. Help make a difference, by dropping off school supplies at Right Honda or Right Toyota, located off Frank Lloyd Wright Boulevard in Scottsdale through July 27th.
"AZLEOS Project Blue back to school supply drive is an excellent example of the positive impact that can take place when community members bond together to support our local youth and neighborhoods," said attorney Kevin Rowe. "We're proud to be part of this project and for the opportunity to show our support of those in blue who go above and beyond daily to serve, protect and give back for the betterment of our communities."
Please contact Cindy Hill via email at [email protected] for a detailed list of needed school supplies, and also, for more ways to donate and support the 2016 AZLEOS Project Blue – Back "Pack" to School supply drive.
More About Lerner and Rowe
Lerner and Rowe Injury Attorneys diversified the legal services by opening Lerner and Rowe Law Group.
The addition of Lerner and Rowe Law Group makes it possible for the firms to now represent clients with:
Personal injury.
Medical malpractice.
Criminal and also DUI defense.
Bankruptcy.
Lastly social security applications and appeals.
With offices in:
Phoenix,
Mesa,
Also, Arrowhead,
Glendale,
Also, Bullhead City,
Yuma,
Gilbert
Lastly, Tucson.
For additional information about Lerner and Rowe Injury Attorneys call (602) 977-1900. To learn more about Lerner and Rowe Law Group, visit lernerandrowelawgroup.com or call (602) 667-7777.
To connect with the law firm socially, follow Lerner and Rowe on Twitter; also like their Facebook page. You may also visit lernerandrowegivesback.com to learn more about the community services that the lawyers and legal support team of Lerner and Rowe actively support.
###
FOR IMMEDIATE RELEASE                                                                                Media Contact:
Kevin Rowe, Esq.
Lerner and Rowe, P.C.
(602) 977-1900