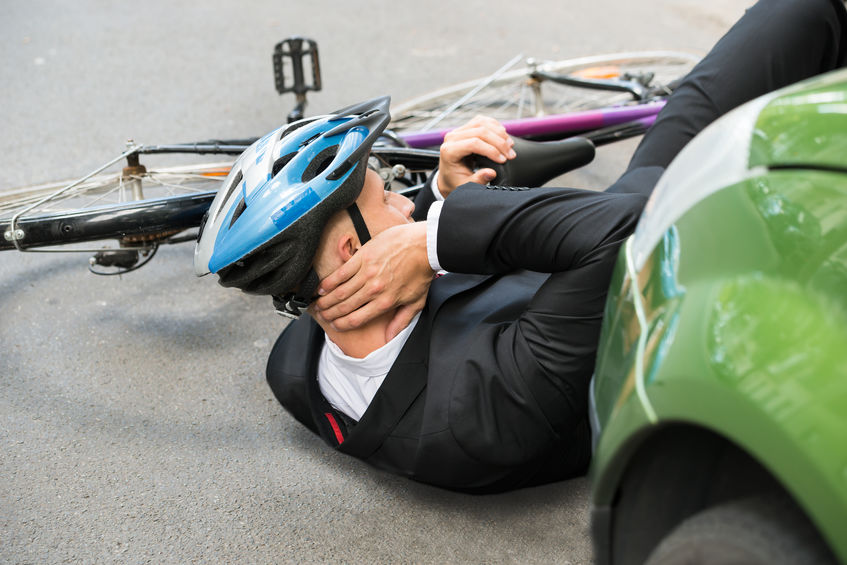 Las Vegas is home to many exciting bike trails. From St. Rose Parkway to the Pitman Wash and into the mountains, bicyclists have a veritable playground to enjoy. Additionally, many city roads criss-cross with bike lanes. Plus, the convenience of city bus bike racks make it possible for more cyclists to hit the roads than ever before.  Thankfully most bicyclists in Las Vegas and Henderson know enough about area road hazards to avoid, both on and off designated trails/lanes. However, even if you prepare in every way, bike accidents can still occur.
If you do suffer an injury due to no fault of your own, you need look no further than Lerner and Rowe Injury Attorneys. Here are our top 9 reasons why you need to contact our Las Vegas personal injury attorneys for your bike accident injuries.
1. First-Time in a Case
Many people that reach out to us for a free consultation have never contacted an attorney before. This is mostly because the thought of having to deal with legal jargon can be overwhelming and intimidating. If it's your first-time seeking out legal counsel, or fighting for more compensation, you may feel the same. However, you need not fear our legal team. Our top priority is to provide exceptional customer service from the start. So, please feel free to ask us any questions that you may have. For example, who is a plaintiff? (That's you – the injured party!) How long will the process take? (Depends on the circumstance of your case. We don't rush just to settle, but take the time needed to get the best outcome.)  
2. Determining if You Have a Case
Often, sufferers of bike accidents believe that they do not have a case. They feel that they caused their own accident or that their injuries are not severe enough to seek monetary compensation.
A personal injury attorney can more accurately determine this for you. Without an extensive background in the law, you may miss something very important that points responsibility for your injuries on another party.
3. Extensive Medical Treatment Costs
Needless to say, if you've been injured unexpectedly high medical bills can feel like a punch to the gut. Having said that, it may come as some relief to learn that an experienced attorney may be able to help you get compensation to cover these bills and any time off work/lost wages.
Additionally, you may be entitled to punitive damages, like pain and suffering. Reaching out to a bike accident lawyer is the best way to find out your possibilities for compensation.
4. What Your Case is Worth
Again, without a background in law, you may not know exactly what your case is worth. Additionally, bike accident injury claims can be much different from any other type of accident. So, seeking help from an injury attorney is essential to ensuring you get the highest outcome possible. When it comes to bike accidents, there are a number of factors an attorney would consider, such as:
What was the environment like where the injury took place?
Did the injury cause the plaintiff to lose his or her job?
What was the extent of the plaintiff's injuries?
Are the injuries permanent or temporary?
What lifestyle changes will the plaintiff now have to adjust to/overcome now that the injury has occurred?
Are there future medical needs, and how costly are they?
It's true that you could answer these questions and submit any required documentation on your own. However, you may miss something which could cost you a significant amount of compensation. So, don't go it alone; call Lerner and Rowe Injury Attorneys today.
5. Possibility of Many Negligent Parties
Negligent parties are sometimes not what you would expect. The responsibility lies on the  person or company that caused or contributed to the injury. If you were hit by a car while riding your bike:
The driver could be responsible if he/she was using their phone while operating the vehicle.
Also, the driver may be found negligent if he/she placed their attention elsewhere. Instead of focusing on the road, he/she may have been applying makeup, eating, drinking, or even checking their GPS.
Passengers in the car may have also caused the driver to be negligent, or even reckless.
Unfortunately, bike accidents can sometimes happen if the driver was under the influence of drugs or alcohol. In this instance, he/she would most likely be found negligent and reckless.
Sometimes, the negligent party was not even present at the time of the accident. For instance:
Perhaps you broke your neck because your front wheel fell off. The manufacturer may be responsible for your injury if it is determined that they knew about this defective product and sold it anyway.
Maybe the retailer you bought your bike from damaged the bikes while in their inventory. Whether on purpose or on accident, if they sold it to you regardless, they could be liable as well.
A repair shop could also be liable for your injuries if they claimed to have fixed your bike when in reality they did not.
Finally, those overseeing the care of the path/trail/road you were travelling on may be the negligent party. This could be:
The property owner of the land you rode on, and
City, county, or state agencies that accept the responsibility of making bikes lanes and trails safe.
Clearly, determining who was responsible for your injuries can be very tricky. That is why you need someone with extensive legal knowledge to ensure that the negligent party is held responsible. Thus, having an experienced Las Vegas bike accident attorney on your side can make all the difference, especially if someone tries to allege that fault may rest on you.
6. The Fault Rests on You?!
Yes, the defendant in your case will try their hardest to prove that you caused your own accident. They may try to claim that you did not do everything you could to ensure your own safety. If they can prove this, that means more money in their pocket.
So, do all you can to avoid bike accidents. Follow the rules of road at all times while on your bike. Wear reflective clothing if riding at night. And lastly, never get on your bicycle while intoxicated. By following the rules you protect yourself against any allegation the defense may try use to prove that you caused your own injury.
Most importantly, good legal representation is a powerful asset to have when others try to work against you. Just know that you need not worry because Lerner and Rowe Injury Attorneys is ready to fight for you!
7. Bike Accidents and Insurance Companies
Many believe that insurance companies are there to help you out in your time of need after bike accidents. This is not always true. Insurance companies are for-profit entities, meaning that they want to make as much money off of their customers as possible.
This also means that insurance companies want to give away as little money as possible. Unfortunately, they may offer you less money than you are entitled to receive after an accident. Thankfully, personal injury lawyers know all the tricks of these companies, and they know what to watch out for. You can rest and heal knowing that your insurance companies are being held accountable.
8.Time to Heal
A successful personal injury case needs documentation, organization, and education. At times, trying to manage your own personal injury case could feel like having a second full time job. Additionally, if you are trying to heal from a severe injury, learning the intricacies of the law should be the last thing on your mind. You need an attorney to:
Collect the correct documentation,
Keep this documentation organized effectively,
Preserve evidence,
Conduct witness interviews if available, and
Handle the hours of phone calls with insurance companies and more.
We understand that you need time to heal from your injuries. So, let Lerner and Rowe Injury Attorneys take care of you. Our experienced lawyers will handle your case so that you can take much needed time to heal.  
9. Our Legal Team's Experience
Lerner and Rowe Injury Attorneys handle cases that are big and small. We are not afraid to stand up against large companies. We also do not practice turning over cases for quick settlements. Protecting the best interest of our clients takes priority over earning a quick buck.
Also, we are known for aggressively negotiating our client's settlements while also giving our clients personal attention through our client advocates. You will not want to begin your personal injury case without this kind of experience behind you. So, reach out to us soon!
More About Lerner and Rowe Injury Attorneys
Our attorneys in Las Vegas are located on Durango Drive and Craig Road. In Pahrump, we are located on East Nevada West Boulevard. Our offices are open from 8:00 a.m. to 5:00 p.m.- no appointments are necessary. Feel free to get in touch with us via our online form. If you would rather speak by phone, you can reach us at 844-977-1900 any time, 365 days a year. Finally, you can get in touch with a live representative via our LiveChat feature. We look forward to hearing from you.

The information on this blog is for general information purposes only. Nothing herein should be taken as legal advice for any individual case or situation. This information is not intended to create, and receipt or viewing does not constitute, an attorney-client relationship.