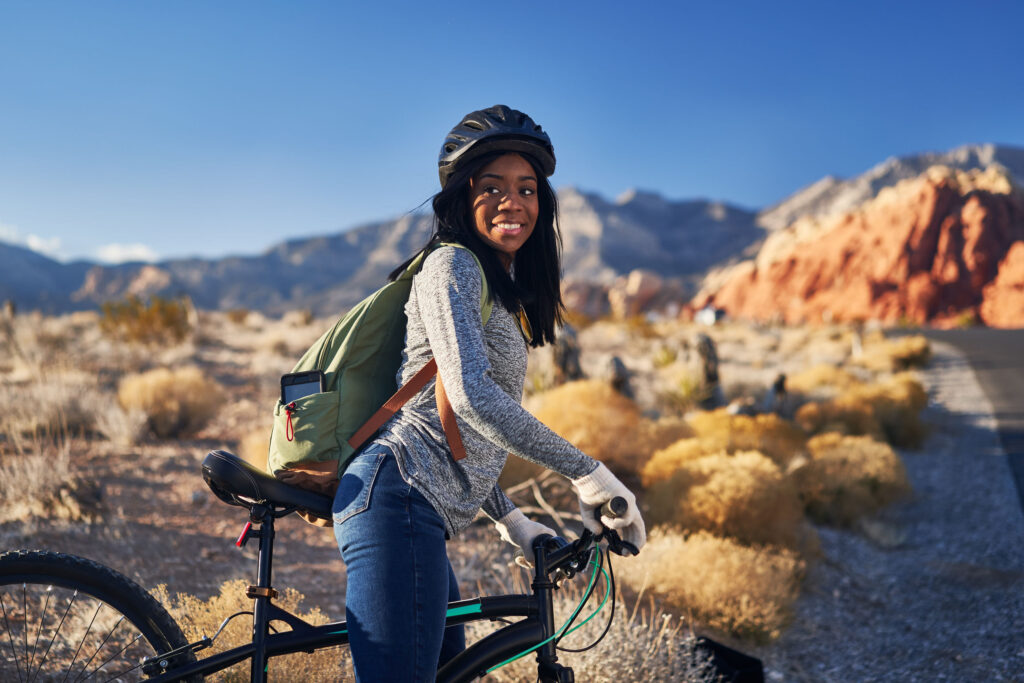 Were you gifted a new bicycle over the holidays? Is exercising a part of your New Year's resolution? If so, that's great! However, if you do plan on riding your bike to start off your New Year's resolution, you should learn how to avoid bike injuries. Bike injuries are more common than you might think. So, here are seven bike riding safety tips from the team at Lerner and Rowe Injury Attorneys!
1. Inspect Your Bike
Before you even think about riding your bike, you should always inspect it. Is the tire pressure appropriate? Do the brakes work correctly? Is your bike's seat level appropriate for your height?
What about the handlebars? Are there any problems with the gear switches? These are all things you should think about before embarking on your biking journey.
2. Always Wear a Helmet
Even though wearing a helmet is not legally required in some states, you should still always wear one. When involved in an accident, it is incredibly easy for cyclists to suffer head injuries since they are immediately ejected from the bicycle and onto the hard pavement.
In fact, in a recent study of 64,000 cyclists presented at the Safety 2016 conference, helmet usage was associated with an approximate 70% reduced risk of serious head injury.
3. Wear Appropriate Clothing
Whether riding during the day or night, you don't want to wear clothing that makes you blend in with the environment. Remember, just because you can see other drivers doesn't mean that you are visible to them. Because of this disparity in visibility, you should wear clothes that make you stand out.
Wear brightly colored, neon, reflective clothing, if possible. Various sports brands offer apparel specifically for biking. It's definitely worth checking out if you want to be absolutely sure drivers will notice you when you're biking.
4. Use Appropriate Bike Gear
Once you've donned appropriate clothing, you should make sure your bike is well-equipped, too. You should be conscious of any bike attachments and how they will affect your riding experience. Are you carrying too much gear on your bike? Are baskets/horns in their proper positions?
You should always make sure your bike comes with reflectors, both on the wheels and on the back of your seat. Bike reflectors are not mere accessories—they are important safety features that your bike shouldn't go without. Reflectors are important, especially at night when visibility significantly drops below normal.
5. Stay Observant
When you're riding your bike, you should always stay alert and avoid distractions. Just as you wouldn't talk on the phone or text while driving, so too should you avoid such activities while biking.
In addition, keep an eye out for vehicles and other cyclists. Some of the most common causes of biking accidents are not looking before making a turn, suddenly appearing from the side of the road, and other driver or biker errors.
Be incredibly cautious while using your bike; just because there aren't that many bike injuries per year in your area doesn't mean biking isn't dangerous. In fact, there were 857 bicyclists killed in traffic crashes in the United States in 2018 alone according to the National Highway Traffic Safety Administration. So don't let your guard down!
6. Follow Traffic Rules
Just as drivers must obey traffic laws, so too must cyclists. When riding in a bike lane, you must ride with the flow of traffic, not against it. Remember, a bicycle is a vehicle, and as such, you must obey the rules of the road. In cases where applicable, yield to other vehicles.
Always yield to pedestrians, especially if they've already entered the intersection or crosswalk. Don't ever run stop signs or red lights! You should also follow the more obscure laws that apply exclusively to cyclists. As an example, it's illegal in Las Vegas to ride your bicycle on the sidewalk. Ride in the designated bike lane.
7. Prepare for the Circumstances
Perhaps one of the best "how to avoid bike injuries" tips is when riding your bike, you should always make sure you are prepared for whatever comes your way. You should always practice safe bicycle riding. For example, you should always keep both hands on the handlebars unless you are signaling.
Also, don't lift yourself off your seat, as unexpected humps in the road can throw you off balance and, ultimately, off your bike. Are you prepared to ride if the roads are wet? What about if it gets especially dark out during the night? You should make sure you are prepared for the circumstances you plan to ride in.
Want to Know More on How to Avoid Bike Injuries?
If you suffer from an injury, you should immediately contact Lerner and Rowe Injury Attorneys. Our experienced professionals will work to collect compensation for all your pain and suffering.
If you wish to contact us, you can call us anytime at 844-977-1900. Our offices are open Monday through Friday, 8:00 a.m. – 5:00 p.m. In addition, you can contact us online and check out our LiveChat feature. Consultations are free, and we do not collect any fees unless we win your case. Don't wait; call Lerner and Rowe Injury Attorneys today!
The information on this blog is for general information purposes only. Nothing herein should be taken as legal advice for any individual case or situation. This information is not intended to create, and receipt or viewing does not constitute, an attorney-client relationship.