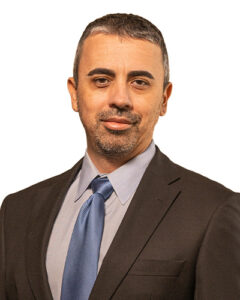 Ryan Lamb is a personal injury attorney at Lerner and Rowe Injury Attorneys. He graduated magna cum laude from Arizona State University with tat B.S. in Human Communication. He received his Juris Doctor from Hamline University School of Law in St. Paul, Minnesota, in 2004.
After graduating from law school, Mesa attorney Ryan Lamb joined the Arizona State Bar in 2004. He then went to work for a small medical malpractice firm in Phoenix representing injured patients and their relatives.
Wanting to expand his area of interest in personal injury law, Mr. Lamb later worked for a larger firm representing primarily defendants in personal injury actions. During this time, he still represented injured parties in personal injury matters.
Mr. Lamb is an Arizona native and was raised in Scottsdale, Arizona. When away from the office, he enjoys spending time with friends, family, and his four large dogs.
A customer is the most important visitor on our premises, he is not dependent on us. We are dependent on him. He is not an interruption in our work. He is the purpose of it. He is not an outsider in our business. He is part of it. We are not doing him a favor by serving him. He is doing us a favor by giving us an opportunity to do so.– Inspirational Quote