The cold weather is gone, and there will be sunny skies and open road for a few months. Las Vegas has some of the most perfect weather conditions for riding almost year round.
The very thing that many motorcycle enthusiasts love about riding – the freedom of not being enclosed in a vehicle – is also the very thing that also makes riding dangerous.
People on a motorcycle that is hit by another vehicle are not protected at all and, depending on how hard the collision impact is, may be thrown from the bike, causing serious injuries. The potential for injury gets worse if passengers are involved.
You aren't alone though. If you were injured on a motorcycle due to someone else's neglect, reckless, or distracted driving, contact a motorcycle accident lawyer in Nevada.
The attorneys at Lerner and Rowe Injury Attorneys have years of experience and will work hard to ensure you receive the justice you deserve. Our firm offers free consultations and also collect no fees unless you win your case.
Motorcycle Accidents in Nevada
One of the most frequent locations of crashes are intersections. Examining why most motorcycle accidents in Nevada happen in intersections may help decrease the risk a motorcyclist has of being a crash victim.
One of the most common causes of intersection bike crashes is another driver who runs a red light. Usually the other driver races to get through the intersection before the light actually changes to red. Or, the driver just doesn't pay attention and does not realize the light is red.
Top 7 Dangerous Las Vegas Intersections
As a motorcyclist, being aware of which intersections to avoid, or exercise more caution at, can save your life. These are the top 7 most dangerous intersections for motorcyclists in Las Vegas:
6) Decatur and Sahara
5) Christy and Charleston
4) Rainbow and Sahara
3) Nellis and Washington
2)Rainbow and Desert Inn
1) Cheyenne and Rancho
Avoiding dangerous intersections isn't always feasible. When you come to one of these intersections or even sense danger, use extra caution before crossing, turning, or merging with your bike.
If the unfortunate happens and you find yourself searching for a motorcycle lawyer near me, you can trust that Lerner and Rowe Injury Attorneys and their partner firms can help you, whether you are in Las Vegas or not. Lerner and Rowe have built up relationships with firms all over the country in his 20+ years of experience.
Impatient drivers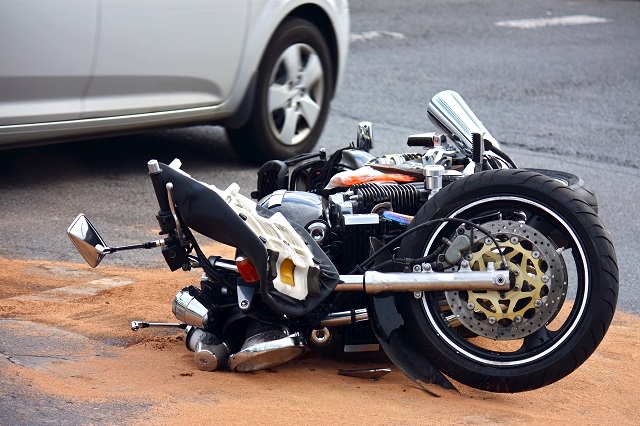 Roughly 75% of motorcycle crashes include another vehicle of some sort rather than colliding with a stationary object. The force of these impacts is far greater as well. With greater force comes the possibility of greater injuries, even if you are wearing the right protective gear. Exercise caution, especially at intersections and red lights.
We have all seen that driver. You know, the one who should stop at a red light, but instead, they keep creeping up on the line, hoping that somehow, the light will change faster. It won't change any quicker. It does, however, create danger for a motorcycle traveling in the lane with a green light. If the vehicle suddenly moves too far out into the lane, the motorcycle could crash right into the vehicle. Almost all of the accidents involving motorcycles happen because the driver couldn't physically see the driver or they didn't see the motorcyclist in a timely manner to avoid a crash.
Accidents at intersections frequently occur during left-hand turns or when a driver fails to see or yield to the motorcycle. Involved in one of the motorcycle accidents in Nevada? Contact us today! We will do our best to ease the stresses of the day to day minutia involved in a personal injury case.
New Bike Rider Tips
It can be intimidating to think about getting on a brand new motorcycle. Before hopping on, get the set of skills you need for handling the intricate machinery. If a new driver or you have recently purchased a new bike, practice with it before taking it on the road. Driving a motorcycle rather than a car, requires a unique skill set.
Before purchasing a bike, ensure that you can handle the models you are looking at; even prior to firing up the engine.
You should be able to plant your feet firmly on the ground, rather than just standing on your toes.

As a driver, you should be able to easily reach the controls and handles.

During testing, check the ability to balance your bike on and off the center stand.

Purchase protective outfits. While fashionable, leather also protects your skin from road rash and other issues that happen if you crash. Leather gloves, jackets and chaps are some of the best investments that a rider can make. If you are concerned about extreme heats, cooling vests and fans exist to help keep internal temperatures. Also, pick bright reflective colors that draw others eyes and make you more visible. Oranges and yellows are some of the best, especially when combined with reflective tapes. Think to yourself. When you are driving through construction zones, what do the workers wear to be seen?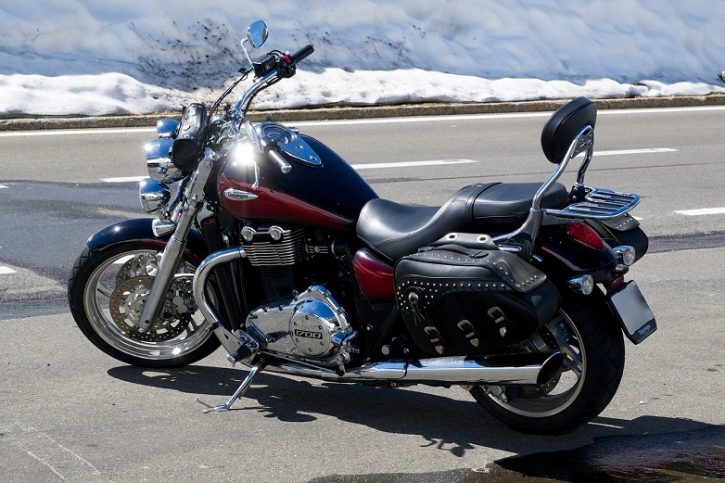 Ways to protect yourself:
Protect your feet! Summers in Las Vegas are overwhelmingly hot. Flip flops or sandals are the preferred summer-wear. However, if you want your toes to remain intact post-accident, proper footwear is a must. Closed toe boots, or at least over-the-ankle footwear, will protect your precious digits.

Taking state safety courses will help make your ride safer and more smooth. These courses can and will help you understand what risks you may encounter on daily commutes or long distance adventures. A professional class provides you with the knowledge and skills you may not learn when your family or friend teaches you how to ride. Crashes occur most often during a short trip like errands including shopping, visiting friends, going to the movies or concerts, or recreation. You don't even have to be tired from a long ride, as most accidents happen at the beginning of the ride.

Your owner's manual is your best friend. It could save you some time later on down the road.

Ensure that you know how to handle your motorcycle in all conditions; rain, snow, winds and also fog. Slippery roads mean difficult handling and possible motorcycle accidents in Nevada. Some motorists have cars for bad weather conditions. You can always enlist a ride sharing service if you don't feel comfortable staying on the road.

Don't be 'that' biker. You know the one. Going as fast as they can with the loudest possible muffler, and weaving in and out of stopped traffic. Or the ones that sail down the emergency lane/shoulder. Everyone in the congestion tends to have at least a little anger towards that biker and it can have nasty results.

Road rage

is real. Obey all traffic laws and posted speed limits and you will be even safer.
Roads, Flash Floods and Crashes
Most motorcyclists do not enjoy driving in bad weather, but there, of course, are exceptions to the rule. There are times when you may find yourself caught in a storm.
Flash floods, especially in summer, are deadly to all motorists, not only motorcyclists. If you have never experienced a Las Vegas flash flood before, it may take you off guard. Some of the older streets don't have the best drainage and it can fill up faster than you expect. According to Tripadvisor.com, "While flooding can occur in any time, the months between July and September are the most dangerous as unstable air from the Gulf of Mexico is rapidly forced upward by hot air currents."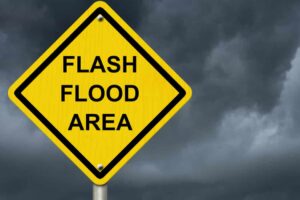 The safest thing to do, if you are driving is to pull off the road and find shelter until the bad weather passes. If you see standing water, do not attempt to cross. Many try, and it usually results in vehicle and personal damages.
If impossible to pull off and delay your trip for the day, remember that wet roads affect your bike's tires' grip the road. The oil residue pushed to the surface of the road by the rain creates unique dangers. If you do come across standing water, turn around and find a different route.
When you are riding, it is also best to avoid uneven roads that are not smooth. Dirt and gravel roads, or construction zone areas, can cause a driver to lose control of the bike. It is especially important to watch out for potholes or other debris which may be on the road. While this only accounts for only 2% of accidents, it is still something that riders should keep in mind when deciding their route.
Keeping your bike in good working order is also key to driving safely. Do a check of your bike whenever you are getting ready to ride. Walking around the bike to check and make sure that the turn indicators, horn and tires look to be in good working order. If you crash, and after consulting a medical professional, contact a Las Vegas motorcycle accident lawyer today to get help.
Assume that drivers do not see you. Most multi-vehicle motorcycle crashes generally happen when other drivers simply didn't see the motorcyclist. Be overtly cautious at intersections, one of the most dangerous spots on the road. More than 80 percent of all reported motorcycle crashes result in injury or death to the motorcyclist, according to NHTSA.
Alcohol
Studies show that alcohol is an overwhelming factor, over half in fact, in motorcycle accidents. 45% of the riders killed in single-vehicle crashes in '02 had been drinking. Alcohol suppresses reactions and that can be incredibly deadly for everyone involved. While knowing your limits can save you, the best options include only driving sober or sleeping it off. Other solutions to stay alive include calling a taxi, utilizing a ride sharing service or asking a friend for a ride. Riding a motorcycle while drunk is not worth the risk of losing your life, killing an innocent person, ruining your bike or going to jail.
Drunk drivers can face jail time, lose their driver's license, get higher insurance rates, and dozens of other unanticipated expenses from attorney fees, other fines and court costs, towing and repairs, lost time at work, and numerous other consequences.
Lerner and Rowe Injury Attorneys doesn't advocate drinking and driving. Stay safe, make other plans, and stay alive.

Las Vegas Accident Attorneys
A vehicle that suddenly slams on their brakes at an intersection is another factor that causes intersection bike accidents.
It is much more difficult for a motorcycle to come to a sudden stop, so when a vehicle in front of them stops without any warning, a biker can slam into them or flip over the top.
If you or a loved one has suffered injuries in a motorcycle accidents in Nevada, contact a skilled motorcycle personal injury lawyer to see what options you may have. At Lerner and Rowe Injury Attorneys, we offer free consults and no fee unless we win your case. Call us today at 844-977-1900 or take advantage of our online LiveChat feature. Don't wait!
The information on this blog is for general information purposes only. Nothing herein should be taken as legal advice for any individual case or situation. This information is not intended to create, and receipt or viewing does not constitute, an attorney-client relationship.