"Best of Our Valley" 2021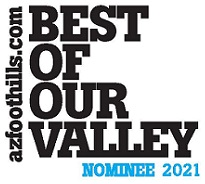 The Phoenix law offices of Lerner and Rowe Injury Attorneys & Lerner and Rowe Law Group are once again in the running for "Best of Our Valley" awards in AZFoothills.com's annual reader's pick contest.
With the support of local community members, our legal teams have won Best Personal Injury Law Firm, Best Criminal Defense Law Firm, and Best Bankruptcy Law Firm for five years in a row (2016 – 2020). Our non-profit Lerner and Rowe Gives Back has also been selected as the Most Philanthropic Law Firm for four years in a row (2017-2020).
This year we'd love the opportunity to once again be voted to win all four categories listed above! With your continued support it will happen!
---
Your Vote Counts – Vote Daily!
Please click on each of the five links below to cast your daily vote in support of Lerner and Rowe now through 11:59:59 a.m. (Arizona time) on November 30, 2020.
Thank you for your votes! All of us appreciate you for taking the time to vote for our law firms and non-profit organization.
---
Official rules for the contest can be found online at arizonafoothillsmagazine.com.