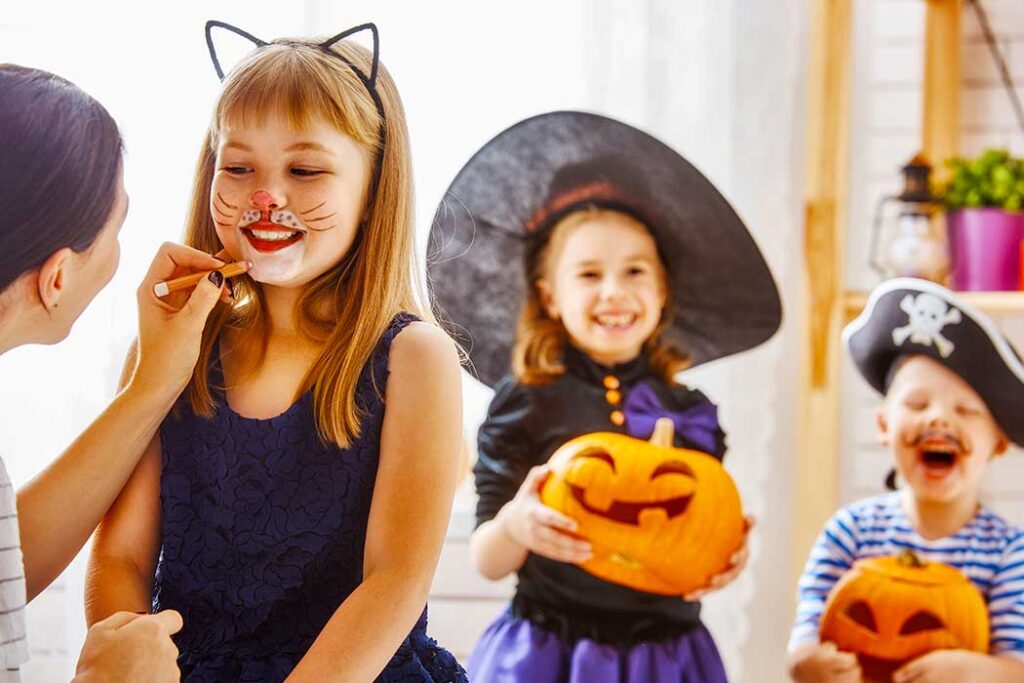 With Halloween looming just around the corner, children are already excited to go trick-or-treating. It's all about fun for them, as it should be. That's why parents should make sure that Halloween in New Mexico is safe for all kids. Nothing spoils the festive mood faster than needing to contact an Albuquerque personal injury lawyer. To help you and your family have an incident-free Halloween in New Mexico, Lerner and Rowe presents the following safety tips for avoiding unexpected mishaps:
Choose bright costumes. Drivers hit more pedestrians at night because of lower visibility. This is especially true in New Mexico, which has led the United States in pedestrian deaths since 2016. Encourage your children to wear bright and colorful costumes so that drivers can easily spot and avoid them. If they insist on wearing a dark costume, make sure that they wear a bright or reflective armband to increase their visibility.
Test the face paint. Even certified non-toxic face paint can cause allergies on sensitive skin. Before covering your kids' faces with paint, do a patch test on their skin a few days before Halloween to see if there are any adverse reactions. The same goes for other cosmetics and hair spray paint you plan to use on them. Even though a product may be safe for external use, there's a chance you could have makeup from a defective batch.
Be mindful of masks. Halloween in New Mexico was very different in 2020 due to COVID-19. With cases rising since July, some parents may want their children to wear protective masks. If possible, try to incorporate masks into a costume. Be very careful if you're having your child use a protective mask under a decorative one, as multiple layers may restrict breathing.
Help with pumpkin carving. Don't leave your kids unattended with carving tools and other sharp objects. Supervise them so that they won't end up cutting themselves. For hard-to-carve places, swoop in to help and make your kids watch what safe carving should look like.
More Halloween Safety Tips
Use LED candles. Real candles are fire hazards. Go for LED candles instead. Their light is just as bright as a real flame, but they don't cause burn injuries. They work inside pumpkins that your kids can carry around or as decoration along paths where trick-or-treaters walk by. Although many people love a good Halloween fright, extra light helps keep everyone safe.
Warn about stranger danger. Children can let their guard down when there's a happy activity going on. Nevertheless, Halloween in New Mexico is the perfect time for predators to blend in with the crowd. When else can they have a better opportunity to lure away children with candies? Be clear with your kids about this additional danger.
Assist when crossing streets. Older children may be able to look after themselves, but the younger ones should be accompanied. They need help crossing the street and carrying their bags of candies later in the night. You can make it a fun bonding activity by dressing up in costume as well.
Sort through their haul. For younger kids, it's crucial that you inspect the treats before they're allowed to eat any. Check for expiry dates, peanut or tree nut cross contamination, intact seals, etc. Also, it's a good way to prevent your kids from binging on too much candy. Since you'll be accompanying them, this rule shouldn't be hard to implement.
Injured During Halloween in New Mexico? Call Lerner and Rowe.
There's still a chance for your kids to get injured due to another's negligence. If this happens, seek medical attention first, then contact personal injury lawyers who can help you make a claim. An accident is already bad enough, but it's worse when it involves children. Lerner and Rowe can take care of all your legal needs, while you focus on the health and wellbeing of your child.
The personal injury attorneys at Lerner and Rowe are available 24 hours a day, 7 days a week. You can give us a call at 505-544-4444 or online through LiveChat. If you'd like to visit us in person, our office hours are from 8:00 AM to 5:00 PM Monday through Friday. Consultations are free and we do not charge a dime unless your case is won. Give us a call today and find out why Lerner and Rowe is one of the most trusted names in New Mexico personal injury law.