Phoenix Law Offices of Lerner & Rowe Donate $10k to AZ LEOS Back Pack to School Program for Second Year in a Row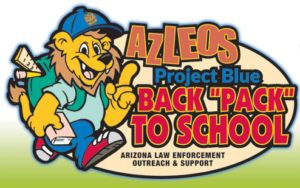 Scottsdale, AZ. (May 25, 2017) – In anticipation of the new school year, the law offices of Lerner and Rowe once again donate $10,000 to AZ LEOS Project Blue – Back Pack to School program. This is the second year the Phoenix-based legal team has gotten involved with this charitable program to benefit disadvantage students in Maricopa County. The $10k donation will be used to purchase items to fill over 300 backpacks with school supplies, as well as gift cards for students to purchase a new pair of shoes. Lerner and Rowe encourage others to also get involved and donate. School supplies or backpacks may be dropped off at Right Toyota or Right Honda in Scottsdale, AZ. on Frank Lloyd Wright thru July 15th to the attention of Jane D'Amelio.
"AZ LEOS Back Pack to School program is just one example of the positive impact that can be made when community members come together for a common good," said attorney Kevin Rowe.
Find a list of requested school supplies on lernerandrowegivesback.com. To learn more about AZ LEOS Back Pack to School program, please feel free to contact the organization directly by calling (480) 695-2494 or send an email to [email protected].
More About Lerner and Rowe
For additional information about Lerner and Rowe's Phoenix personal injury attorneys call (602) 977-1900. To learn more about Lerner and Rowe Law Group, visit lernerandrowelawgroup.com or call (602) 667-7777.
To connect with the law firm socially, follow Lerner and Rowe on Twitter, or also like their Facebook page. Also visit lernerandrowegivesback.com to learn more about the community services that the lawyers and legal support team of Lerner and Rowe actively support.
###
FOR IMMEDIATE RELEASE                                                                                Media Contact:
Kevin Rowe, Esq.
Lerner and Rowe, P.C.
(602) 977-1900