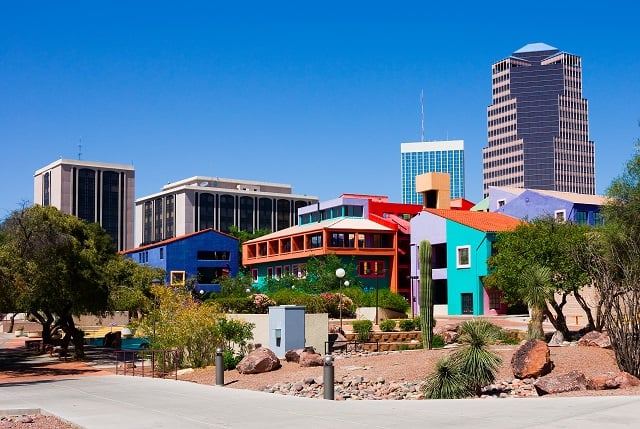 How to Safely Drive in Tucson after Rainfall
Tucson, Arizona's warm, sunny climate makes it a popular destination for both tourists and year-round residents. With an average annual temperature of 68º and a scant 12″ of rainfall per year, Tucson has nearly ideal weather.
Infrequent rainy days make for great traveling, but driving can be a slippery experience for those who are not used to dealing with slick, wet roads – resulting in more car accidents in Tucson.
Navigating Rainy Tucson Highways
Our personal injury attorneys offer these rainy day driving tips to help you avoid a car accident in Tucson.
Visit AZ511.gov, Arizona Department of Transportation's travel information alert system, for current information on highway conditions and closures.
Speeding is a dangerous practice under any conditions, but during rain it becomes lethal. Wet pavement reduces tire traction by up to one-third. Compensate by reducing your speed by the same proportion when driving on wet roads.
If your vehicle should start to hydroplane, which occurs when the tires completely lose contact with the pavement, don't panic. Ease off the gas pedal and gently apply the brakes, which should transfer weight to the front tires so they regain contact with the road.
Setting cruise control may sound like a good idea, but the sensors may be affected by the weather, making the system unreliable.
Avoid driving through standing water unless there is no other way. Your car could end up with a flooded engine or brakes, or it may become damaged from hidden obstacles.
Keep your headlights on, even during daytime hours. Make sure the windows are clean and the windshield wipers are in working condition with effective blades.
Increase the standard three-second following distance by at least one or two seconds.
What to Do After a Rainy Day Car Accident in Tucson
A car accident is unsettling under any conditions. Our experienced Tucson car accident lawyers at Lerner & Rowe Injury Attorneys are ready to help you every step of the way, from dealing with insurance claims to recovering appropriate compensation. Call 602.977.1900 or visit our website for prompt assistance.