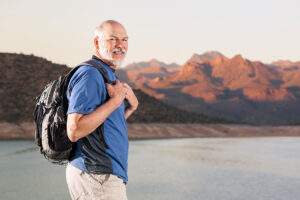 Father's Day is just around the corner and one way to celebrate is by spending some quality time with Dad on a hike. Getting back to nature is a good way to reconnect and create a memorable day for both of you. However, before heading out for your hike, it is a good idea to follow the advice of a local personal injury attorney and practice these five ways to keep dad safe during your hike.
#1 Dress Appropriately
You should make sure that both you and your Dad are wearing footwear that is suited for hiking. It's important that your shoes fit properly and provide support to prevent tripping or turning an ankle. When possible, wear sneakers or trail shoes that provide plenty of grip to avoid slips and fails.
Both you and your Dad should also wear loose fitting clothing that helps wick sweat away from your body to keep you cool. A hat and sunglasses are important for avoiding sunburn on your heads or face and keeping your eyes safe from UV rays.
#2 Bring Plenty of Water
During this time of year it's important to make sure you drink plenty of fluids to prevent dehydration. Make sure to pack plenty of drinking water because chances are you won't be able to fill up out on a trail.
#3 Be Aware of Signs of Heat-Related Illnesses
Keep watch for signs of heat exhaustion, heat stroke or dehydration. If your Dad or even yourself feel dizzy, are disoriented or are slurring your words, seek a shaded area immediately and seek emergency assistance. It's a good idea that you keep a cellphone with you at all times in case you need medical assistance.
#4 Research Your Hike
Determine where you will be hiking and plan where you should stop for breaks on the trail. Make sure to bring a map of your trail because you may not always have a cell signal while hiking.
#5 Start Early in the Day
During this time of year, the temperatures can start to soar early in the day. To avoid getting overheated, begin your hike early in the day and plan to finish it before lunchtime. This will help you beat the heat. A bonus for doing an early morning hike is that you might be able to enjoy the sunrise with day.
Accidents Happen, and a Personal Injury Attorney Can Help
Despite taking all precautions you make take for a safe hike, sometimes accidents happen while driving to your destination. If you or your Dad suffer an injury, you need an Albuquerque personal injury attorney on your side.
Lerner & Rowe Injury Attorneys are ready to help. Our office hours are 8 a.m. – 5 p.m. Monday through Friday, but we can be reached in an emergency 24 hours a day, 7 days a week. We are available by phone at 505-544-4444 or by live chat on our website to give you a free consultation.