Lerner & Rowe Sponsor Annual Christmas Wish Program that Benefits Phoenix Foster Children & Families Living in Extreme Need
FOR IMMEDIATE RELEASE                                                                                  Media Contact:
 Kevin Rowe, Esq.
Lerner and Rowe, P.C.
(602) 977-1900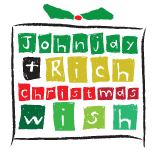 Phoenix, AZ. (November 23, 2016) – For five years running, Lerner & Rowe's Phoenix law offices are the wish nomination sponsors of Johnjay & Rich's annual Christmas Wish Program that benefits children in Phoenix Foster Care System. From November 28 through Christmas Day, the KISS 104.7 FM morning show duo will grant wishes made on behalf of families and children that are living in extreme need. Popular wishes include gift cards, clothes, groceries, toys, appliances and assistance with household bills. Santa helpers can nominate a foster child or family for a Christmas wish online today at johnjayandrich.com.
"Johnjay & Rich's Christmas Wish Program is extra special in that it focuses on a unique community that is not always recognized. We are excited to once again support their efforts to bring comfort and hope to children and families in extreme need within the Phoenix Foster Care System," said Kevin Rowe, managing attorney of the law offices of Lerner and Rowe, P.C.
Johnjay & Rich's Christmas Wish Program has been giving back for nearly 15 years. For more information on how to get involved and give back, like Lerner and Rowe's wish nomination sponsorship, please contact Kirsten Johnson via email at [email protected] or by calling (602) 370-0561.
More About Lerner and Rowe
For additional information about Lerner and Rowe's Glendale personal injury attorneys call (602) 977-1900. To learn more about Lerner and Rowe Law Group, visit lernerandrowelawgroup.com or call (602) 667-7777.
To connect with the law firm socially, follow Lerner and Rowe on Twitter, or become a fan of their Facebook page. Also visit lernerandrowegivesback.com to learn more about the community services that the lawyers and legal support team of Lerner and Rowe actively support.
###