Arizona Motorcycle Accident Attorney Kevin Rowe
Motorcyclists are expected to follow the same basic driving laws that are in place for cars, trucks and other vehicles. In addition, the Arizona Department of Motor Vehicles has specific laws in place for motorcycle riders. The motorcycle accident attorneys at Lerner and Rowe have first-hand knowledge regarding these laws as some of the attorneys are riders themselves.
Arizona Motorcycle Accident Laws and Statistics
In 2010, the National Safety Council (NSC) released data showing fatalities involving motorists and motorcyclists increased 131% between 1998 and 2008. Even with a yearly increase of motorcycle accidents that resulted in fatalities, there are states that still do not have motorcycle helmet laws. The State of Arizona does not require that riders wear helmets when operating a motorcycle, only that they have proper eye protection and / or a windscreen on their motorcycle.
You Need an Arizona Motorcycle Accident Attorney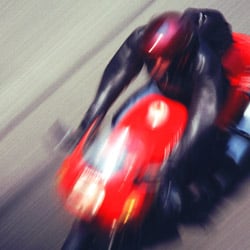 When you or a loved one has been injured or has died as the result of a motorcycle accident you should contact an experienced Arizona motorcycle accident attorney. Lerner and Rowe motorcycle accident attorneys are both experienced in handling motorcycle accident cases and familiar with the Arizona laws that govern motorcycle riders. We are available to help and a motorcycle accident attorney at Lerner and Rowe will review your case for free.
The Arizona motorcycle accident attorneys at Lerner and Rowe will be able to evaluate what occurred during the accident and help determine who or what was at fault. We have investigators on staff in our offices throughout Arizona who are experts at examining and evaluating motorcycle accident evidence and determining the causes and fault of such accidents. Once these key components have been established, we will be able to determine whether or not you are entitled to compensation for any damages to yourself or your personal property as the result of the motorcycle accident.
Compensation for damages may cover current and future medical expenses, motorcycle repairs and future financial obligations in cases of a prolonged recovery or permanent disability. In the event of a wrongful death as the result of a motorcycle accident, compensation can cover funeral arrangements and left over emergency or life support medical bills.
Lerner and Rowe Motorcycle Accident Attorneys of Arizona
Call us to schedule a free case evaluation with a motorcycle accident attorney at 602-977-1900 or complete the online evaluation form now. We are here to help 24-hours a day, seven days a week. You will meet personally with a motorcycle accident attorney who will discuss your case and resulting injuries with you and advise you of your options. If your injuries prevent you from visiting one of our many convenient Phoenix or other Arizona locations, we will gladly send a motorcycle accident attorney to meet with you at your home or in the hospital. There are no fees unless you win. You have nothing to lose, call today.