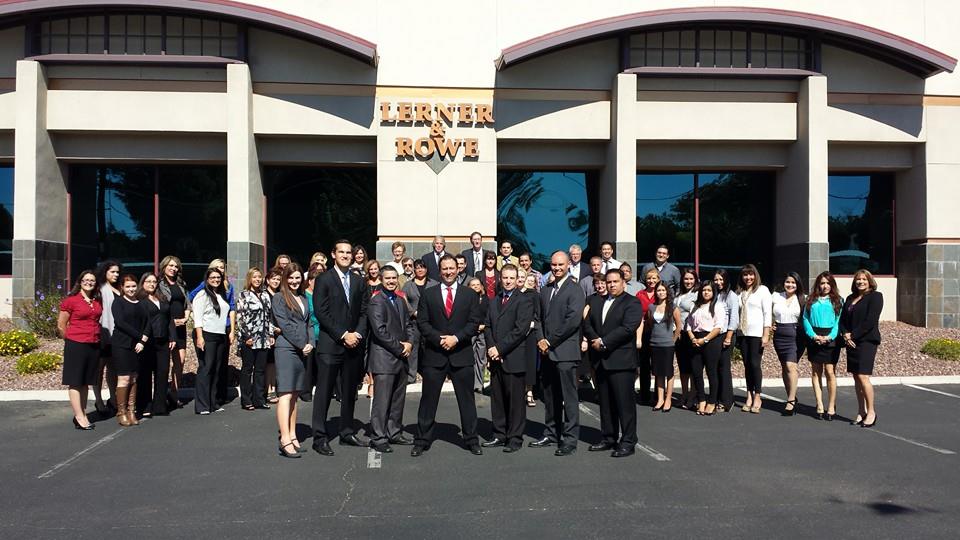 Established in 2005, Lerner and Rowe, P.C., was founded upon the principles of quality representation and a dedication to client service and satisfaction. In conjunction with these founding principles, the wealth of knowledge and experience in all aspects of the personal injury case has allowed us to help our clients obtain maximum compensation for their injuries and become Arizona's premier personal injury firm.
Lerner and Rowe has already helped tens of thousands of injured people get their lives on track following accidental injuries. Indeed, Lerner and Rowe has become one of the largest, most successful personal injury law firms in Arizona. Our success is rooted in the fact that we take pride in fighting for each and every client and, be your case large or small, we vow to help you or a loved one in your time of need.
Lerner and Rowe represent people in the great metropolitan Phoenix area and throughout Arizona, including those in Bullhead City, Mesa, Scottsdale and Arrowhead / Glendale. Contact our law offices today to schedule a free evaluation at (602) 977-1900. We will come to you at your home, hospital room or work if you are unable to visit one of our six Arizona office locations. We are here to fight for you!
Recent Case Results
Throughout Lerner and Rowe law group exists a culture of incredibly aggressive and extremely smart personal injury attorneys who get extraordinary results for their clients. The case results listed below are a few recent examples of the personal injury and accident cases settled by the attorneys at Lerner and Rowe, P.C.:
$4.9 Million settlement for a motorcyclist hit by a cab
$4.23 Million jury verdict for driver negligence involving failure to stop at red light
$3.911 Million jury verdict for driver negligence involving failure to yield
$3 Million settlement with a trucking company following a tractor trailer crash
$4.489 Million jury verdict following a head on crash
$2.7 Million settlement with a trucking company following a head on collision
$1.6 Million jury verdict for driver negligence
$1.75 Million settlement as a result of a water tanker crash
$1.9 Million jury verdict for driver negligence after a low impact crash
$800,000 for a fall when the floor gave way in an apartment building
$1 Million settlement for driver negligence involving a tractor trailer rear ending a car
$1.5 Million settlement for 2 clients who were hit by a tractor trailer during road repair work
$1.5 Million settlement for driver negligence involving crossing over the median
Giving Back to the Community
Lerner and Rowe Gives Back is a nonprofit organization founded by Kevin Rowe, managing partner of Lerner and Rowe, P.C. The organization believes in paying forward the law firm's achievements and successes by assisting other community organizations that serve children and families struggling from the recent economic downturn. Organizations we work with advocate for the improvement of children facing poverty, illness, disease and other areas of need. In addition to children in need, we support groups that touch the lives of the hungry, homeless, sick and abused, and even our four-legged friends. For more details, visit LernerandRoweGivesBack.com.
Going Green
Lerner and Rowe takes "Going Green" seriously. We have undergone inter-office changes and encourage staff members to make small changes which will reduce our ecological footprint. We've adopted a shredding system which saved over 52 trees in the past year! Each ton of shredded recycled paper will save 17 trees, 7,000 gallons of water, 400 kilowatts of energy, 90 cubic feet of landfill space and 100 gallons of gasoline.
Lerner and Rowe's mission to Go Green includes:
All computers operate in power saving mode.
We encourage staff members to use reusable water bottles instead of plastic cups and/or water bottles.
We recycle toner cartridges.
Our office purchases recycled content office paper.
We encourage staff members to turn off lights when leaving their office.
Client Testimonials
Clients that come to Lerner and Rowe Injury Attorneys are given personal one-on-one attention to assist them with their legal needs. We are committed to providing the best representation to our client. Don't just take our word for it. You can see for yourself what some of our clients are saying about us. Watch client testimonials at our professional review site to learn more about what we have done for others and what we are able to do for you.