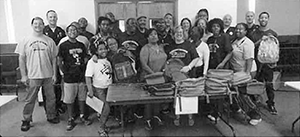 Event organizers of the Tonto Street Church Back to School Giveaway raised nearly $2,000 in cash donations. The Phoenix personal injury law offices of Lerner and Rowe were among those who provided monetary donations.
Nearly 100 backpacks loaded with school supplies were provided to low income youth living in the Central City South community. Central City Precinct Officers and Housing Department staff joined volunteers from Tonto Street Church to pass out the backpacks and supplies.
Students attending the Tonto Street Church Back to School Giveaway were also able to participate in a youth rally and enjoy a free lunch.
Phoenix Personal Injury Attorneys
After a serious accident, a personal injury attorney can ensure a victim receives fair compensation. Lerner and Rowe Injury Attorneys offer free initial consultations and no costs or fees unless you win.Compensations our attorneys seek on your behalf include losses from medical bills and also lost wages, emotional distress, and pain and suffering. So, contact Lerner and Rowe today. The calls and consultation remain free. You pay no out of pocket costs or fees unless you win.