Bullhead City Pedestrian Accident Attorney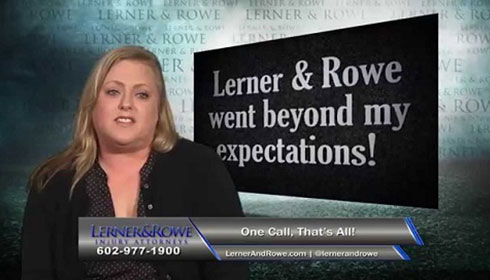 Pedestrians being hit by cars is a rising problem throughout Arizona, including the Bullhead City area. According to the CDC, pedestrian deaths are most likely to occur in more urban areas of the city, at non-intersection locations and at night, when visibility is low.
Lerner and Rowe pedestrian accident attorneys are available 24/7 for injury victims in need of legal representation. So, don't wait and contact us today.
Injured in a pedestrian accident? You should seek a pedestrian accident attorney to help you recover the medical costs and compensation you deserve.
Why Are Pedestrians Hit by Cars in Bullhead City?
Most pedestrians hit by cars were unable to avoid the accident. They also have a higher likelihood of sustaining life threatening injury than other vehicle-related accidents.
So, many of the pedestrian accidents in Bullhead City are the result of:
Reckless and speeding drivers
Driving while under the influence of drugs or alcohol
Failing to pay attention or driving while distracted
What is a Non-Fatal Pedestrian Accident?
In 2010 the National Highway Traffic Safety Administration reported that there were 70,000 non-fatal U.S. pedestrian accidents. Non-fatal pedestrian accidents may involve minor scrapes and bruises or serious life-altering injuries.
Even non-fatal pedestrian accidents can include very serious, life altering injuries that may affect you or your loved one emotionally, financially and also physically.
Likely life altering injuries when hit by a car include:
Head injuries
Broken or fractured bones
Long-term mental distress or emotional damage
Temporary or long term incapacitation
Pedestrian accident injuries that result in a serious personal injury should not be taken lightly. Right after an accident you should seek medical attention for injuries suffered. Contact an experienced attorney.
Contact the Best Personal Injury Attorneys!
So, call us today at 928-923-6777, or fill out the online form to meet with a qualified Lerner and Rowe Bullhead City pedestrian accident attorney.