24/7 Car Accident Attorneys and Personal Injury Lawyers in Mesa
Day or night, weekday or weekends and even on holiday, you are not alone after a serious accident. As an accident survivor, you can seek out assistance from Mesa Personal Injury Lawyers 24/7. Our knowledgeable and highly skilled team of Arizona personal injury and wrongful death lawyers are ready to help.
Please call us at 602-977-1900 today for a free consultation to learn more about how we may be able to help you with your injury claim or lawsuit.
---


(*Voted Best Personal Injury Law Firm in the Valley in AZ Foothill Magazine independent reader poll.)
---
What You Need to Know About Our Mesa Personal Injury Law Firm
At Lerner and Rowe, we represent a wide range of personal injury cases. With over 224 years of combined litigation experience, our personal injury lawyers and legal team members know how to protect the rights of personal injury victims. We also know how to fight insurance companies to get the most compensation possible. Last year alone our personal injury claim successes equaled to total settlements of over $65 million!
If you or a love one is harmed due to another's reckless and negligent behavior, you may have a legitimate lawsuit or claim. The following list is an example of the types of personal injury cases we handle at Lerner and Rowe:
Each of these accidents can result in injuries that required medical care that can require a few visits to a doctor or a long-term hospital stay and continues rehabilitation. Depending on how serious your injuries are, it's easy for medical costs to pile up at an alarming rate. One of the most important things to us at Lerner and Rowe is making sure that our clients are not taken advantage of by insurance companies. We fight to get you the most compensation possible for your injuries and damages to cover:
Pain and suffering;
Lost wages;
Emotional distress;
Vocational training;
Physical therapy; and
Loss of consortium.
And since negligent actions and oversights can occur anywhere and at anytime, our Mesa personal injury office can be reached 24/7.
Personal Injuries Caused by Accidents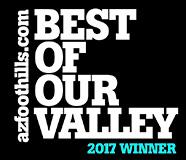 No two personal injury cases are the same. Injuries caused by a motorcycle accident can be significantly different than those caused by a slip and fall accident. Our Mesa personal injury lawyers were voted Best Personal Injury Law Firm in the Valley* for 2016 & 2017 because we have a reputation for successfully representing clients with injury claims such as:
*Voted Best Personal Injury Law Firm in the Valley in AZ Foothill Magazine independent reader poll.
Where Our Mesa Personal Injury Lawyers are Located
Our aggressive personal injury attorneys and legal team in Mesa can help you today.
Join Our Team
Want to join us in the good fight to protect the rights of the injured? Check out our careers page and submit your resume today. Visit Careers Page
---
We are licensed to practice in the highlighted states below. However, we have relationships with other law firms in almost all 50 states!