Arizona Personal Injury Attorney for Scooter Accident Injuries
Top-Rated Phoenix Valley Lime, Spin & Bird Scooter Lawyers
A new phenomenon has hit the streets in cities around the country and it is called dockless on-demand electric scooter rentals. Electric scooters are being called an innovative and environmentally friendly mode of transportation.
Furthermore, this mode of transport has particularly usefulness in cities highly congested with traffic. Three companies are vying for the markets in these cities, but as more scooters roll out on the streets, scooter accident injuries are bound to increase.
If you or a love one is hurt in an electric scooter-related accident, please dial 602-977-1900 or also contact our personal injury law firm online to learn how to file a personal injury claim. You may be eligible to seek compensation for your pain, losses and other damages.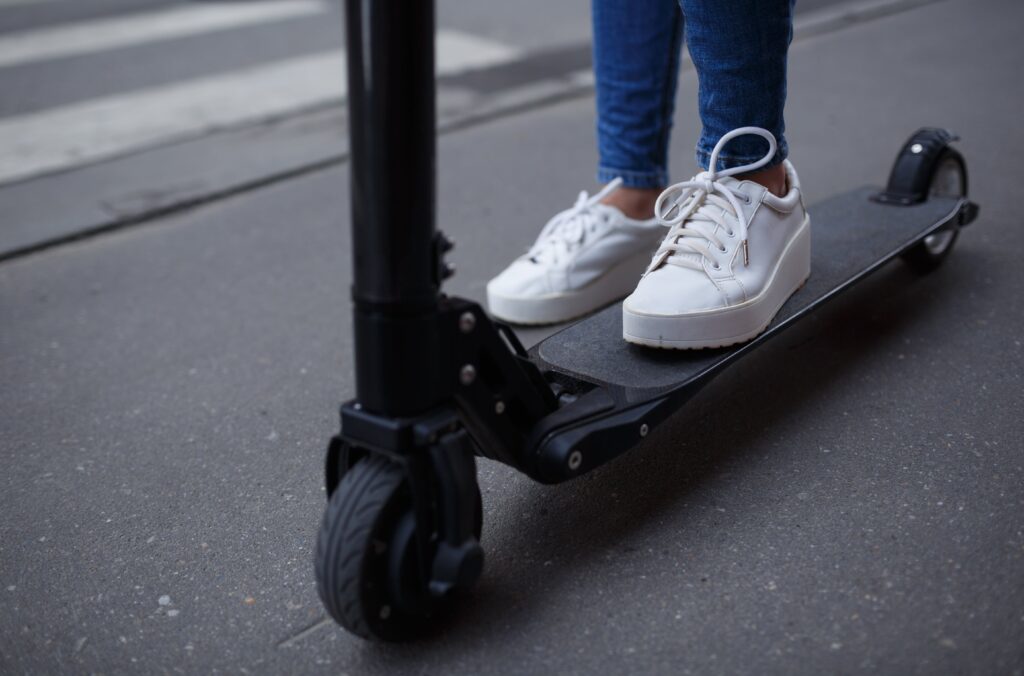 How It Works
Electric scooter rentals work much in the same way as the rent-a-bike programs that came before them do. Potential customers use a smartphone app to unlock and rent a scooter, then lock and leave the scooter when they are done.
The lock and leave policy is one area being frowned upon in many cities and one potential cause for concern when it comes to scooter accident injuries. Three companies seem to be hitting the markets the hardest, which includes Bird, Lime and also Spin. While Lime and Spin also have bike share programs, Bird is strictly renting electric scooters.
SUBMIT A FREE CASE REVIEW!
State Laws & City Ordinances
Although electric scooter rentals are a relatively new phenomenon, the concept seems to have already become a growing trend in some Arizona cities. Because these scooters travel less than 20 mph, Arizona does not have any state laws to abide by. As a result, that means individual cities must pass ordinances to keep scooter riders, bicyclists, pedestrians and passenger vehicle drivers safe on their streets.
Scottsdale and Tempe both saw an influx of electric scooter rentals following a May 2018 launch by both Bird and Lime. They had conflicting opinions on how to handle the newest alternative transportation craze.
Like any new technological trend, the sudden surge in electric scooter rentals outpaced the cities' abilities to create appropriate regulations. However, Scottsdale initially filed a cease and desist order against Bird following their launch, but now are trying to work with the company.
Since the scooters are motorized, they must abide by different regulations than bicycles. Also, Bird can only continue operating in Scottsdale, if they conform with city ordinances, which they have agreed to do. Especially relevant for potential riders, Scottsdale basically defines electric scooters as motorized skateboards and as such, they must follow specific ordinances.
This means electric scooters cannot be ridden anywhere skateboards are prohibited or on any:
Public streets with speed limits in excess of 25 mph
Public streets with four or more marked traffic lanes
Bicycle lanes
Sidewalks
Unpaved trails
Multi-use paths
But, Bird, Lime and Spin scooters can be ridden on:
Public streets with speed limits less than 25 mph
Private property (with property owner's permission)
Public roadways within a city par
As far as parking goes, riders can only park electric scooters on private property with the property owner's permission. The scooter companies also cannot stage scooters for rent on public property.
Conversely, Tempe took a more hands-off approach to the situation. However, regulations are expected to be established over time and will likely be included in the city's evaluation of dockless bike-share programs.
The scooter rental companies themselves also post rules on their websites and some even on the scooters themselves. They all agree that riders must be at least 18 and require a driver's license for renting. Bird also requires a helmet, while Lime offers this up as more of a suggestion. Bird adamantly posts a one rider rule. While Lime insists upon no stunt riding. It remains unknown whether, or for how long, these rules will remain enforced.
Electric Scooter-Related Accidents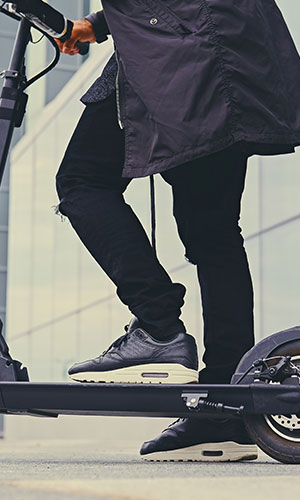 With easy and abundant access to scooters for rent, accidents have already seen an increase. Because the scooters travel at 15 mph, the casual rider might not be able to handle it. Which poses a danger to them, as well as, pedestrians and bicyclists. There was already one accident reported in Santa Monica of a fairly serious scooter-related injury involving a car, which caused the female rider to sustain moderate head trauma. Noteworthy common causes of scooter accidents include:

Scooter defects
Brakes locking up
Panic stops that throw the rider
Losing control of the scooter
Rider error
Reckless driving while crossing intersections
Pedestrians hit by scooters
Road hazards
Riding double
Children riding scooters
Not wearing a helmet
Riding on sidewalks
Negligent third party
Extremely small size makes scooters less visible
Instability that causes scooter to wobble
Inexperienced riders
Underage drivers
High-risk behavior
Trip and falls caused by improperly parked scooters
Were you injured as a result of any of these common causes of accidents? Then talk to our Phoenix scooter accident attorneys today by calling (602) 977-1900.
Potential Scooter Accident Injuries
Rental scooters experience heavy use, which translates to higher levels of wear and tear, not to mention customer abuse. Scooter rental companies do not have time to check each scooter between rides to ensure it is still in good working order. This likely means by the time the company knows of a problem, an accident has already occurred. Potential injuries you can receive from a scooter accident greatly vary. However, single-rider accident victims could sustain:
Sprains
Strains
Mild to severe concussions
Cuts and bruises
Wrist and/or arm injuries
Ankle and/or leg injuries
Neck injuries
Back injuries
Spinal cord damage
If you have an accident with a motor vehicle, your scooter accident injuries could potentially be much worse, and also include death.
Who Pays Compensation?
Determining the source of compensation for electric scooter accident injuries can be extremely difficult. Since scooter rental riders do not need to carry liability insurance, they cannot count on insurance to kick in. Or, to pay for their injuries or the injuries they might inflict on others.
Above all, if the scooter operator receives harm by an uninsured motorist, they also cannot file against any uninsured motorist coverage they might have. Getting compensation for any scooter-related injuries really comes down to fault.
Examples of fault in scooter rental accidents:
Scooter Rider's Fault: Their homeowner's or renter's insurance may cover any injuries, depending on their policy, if they have one, or you would have to seek a personal injury lawsuit against the responsible individual.
Motor Vehicle Driver's Fault: The driver's auto insurance company may have accountability for the driver's negligence.
Pedestrian's Fault: Again, their homeowner's or renter's insurance may cover any injuries, or you would have to seek a personal injury lawsuit against the individual.
Rental Scooter Company's Fault: The company may be liable for injuries, if the accident was due to an equipment malfunction or defect.
Business' Fault: The business' insurance may pay, if the accident resulted from a hazard created by the business owner or someone in his employ
City's Fault: The city might have liability for injuries, if the accident was due to potholes or other road hazards or defects.
We Help Get You Seek the Compensation You Deserve
As the influx of the scooters continues in Arizona, scooter-related accidents will most likely increase. As a result if you have been injured in a scooter-related accident, the experienced personal injury lawyers at Lerner & Rowe Injury Attorneys can help. We also offer free initial consultations to evaluate your scooter accident injuries.
Additionally, we'll help identify who was at fault and discuss whether you have a case. We fight so hard to get you the compensation you deserve for scooter accident injuries to cover medical expenses, lost wages and other damages. So, contact Lerner and Rowe today by calling 602-977-1900.