How Can a Tucson ATV Accident Lawyer Near Me Help After a Crash?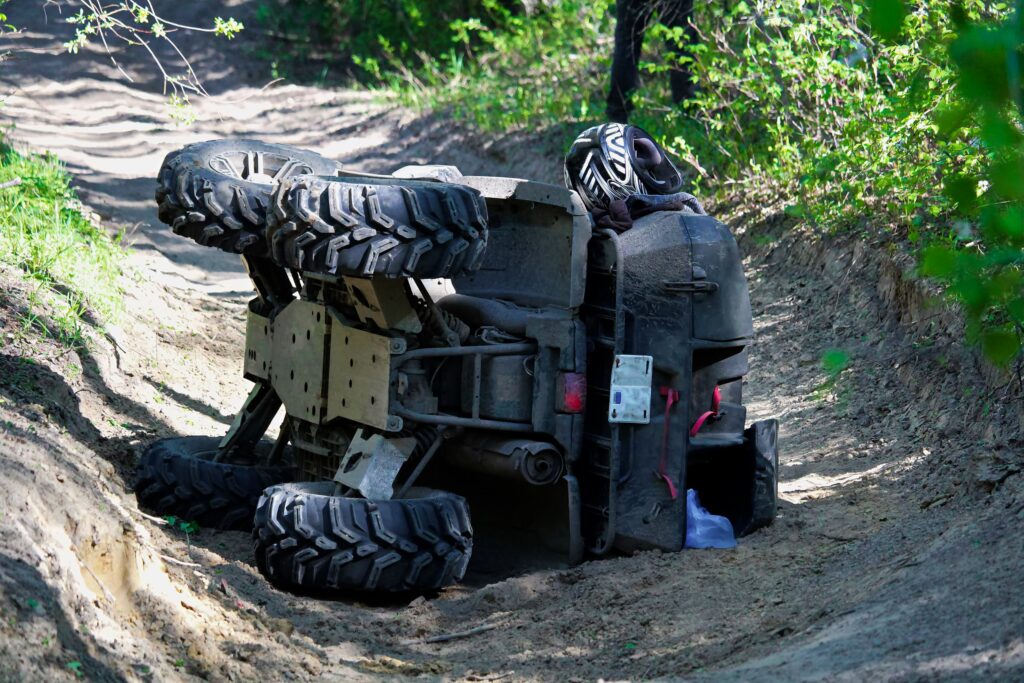 Our Tucson ATV accident lawyers know that spending a day exploring the desert on your ATV is a great way to relax and unwind while also seeking that surge of adrenaline. After all, these all-terrain vehicles can take you to new places that a regular vehicle cannot.
However, this can also inspire riders to drive recklessly and negligently, potentially causing harm to others as a result. In addition, ATV roads can be unmaintained and unregulated, leading to flipped vehicles or riders being thrown from the trail. This is just another accident risk that drivers need to keep in mind prior to taking to the trails.
When an ATV-related injury occurs at the fault of another party, you may be able to seek compensation. Financial compensation can help pay off your medical bills, cover any lost wages, and provide a recovery for your pain and suffering. But, to maximize this amount, you will need knowledgeable Tucson ATV accident lawyers near you that are ready to fight for you. The accident lawyers at Lerner and Rowe Injury Attorneys handle personal injury cases caused by off-road vehicles often.
To find out if your case is eligible for compensation, call Lerner and Rowe today at 520-977-1900, fill out this FREE online form or text through our LiveChat feature. When you reach out, we will set up your free case evaluation and consultation.
---
What Kind of ATV Accidents Happen in Tucson?
ATV accidents in Tucson include:
Crashing the ATV at a supposedly maintained driving course.
Collisions with another ATV.
Crashes that involve those on the ground, like a pedestrian.
Colliding with a dirt bike.
Collisions with motorcycles.
Rollovers/crashes caused by faulty ATV parts or equipment.
ATV accidents can be just as devastating as motor vehicle accidents because there are fewer safety features. Depending on the off-road vehicle, there may be no seatbelts, air bags, or roll cages to keep passengers safe. Clearly, ATV injuries in Tucson can have lasting, life-long effects.
---
ATV Injuries in Tucson
Some injuries caused by ATV accidents in Tucson include:
Whiplash, especially in head-on collisions with other vehicles or solid objects.
Head injuries, like Traumatic Brain Injuries (TBI) often caused by helmet defects.
Other spinal cord injuries or broken bones caused by being thrown from the vehicle or rolling over.
Burn injuries, if the ATV overheats after/during a collision event.
Soft tissue injuries, like cuts, lacerations, bruises and more.
Very often, victims do not sustain a single injury; rather, they may experience a combination of multiple ATV injuries. This means longer hospitalization and rehabilitation, more time off work, and higher medical bills. In addition, many of these accidents happen off road, where it is difficult for emergency vehicles to reach. This leads to heightened emergency care costs, especially if a helicopter or search party is needed.
---
How Do Tucson ATV Accident Attorneys Help Victims After an Accident?
The Tucson all-terrain-vehicle crash attorneys at Lerner and Rowe can help the victim of an ATV accident by:
Listening to the details of what happened on the trail or course during their free case evaluation.
Determining whether or not another party, like another driver or ATV manufacturer, was liable for the accident.
Conducting their own investigation into the case and finding evidence to prove that the victim did not cause their own injury.
Determining an appropriate amount of financial compensation for the victim and their family.
Drafting a demand letter to insurance companies and negotiating with the insurance companies so the victim can focus on recovery, rather than a complex legal battle.
If necessary, representing the victim in court.
You can help strengthen your case by saving all the medical bills and documentation from your ATV accident. If you're able, take photographs of the scene. Provide your attorney with all of these artifacts.
---
Do Lerner and Rowe Injury Attorneys Assist Families After ATV-Related Deaths?
Yes, if your family recently lost a loved one due to an ATV accident caused by another, we can help. There are certain kinds of compensation that are designed specifically to help families dealing with wrongful death. These may include loss of companionship and loss of consortium, among others.
We understand that no amount of money can fill the hole left by the loss of a family member, but it can help you and your family adjust and move forward after a devastating accident.
---
Work with a Tucson Personal Injury Lawyer at Lerner and Rowe
If you or a loved one have been injured in an ATV related accident, contact an ATV accident lawyer in Tucson from Lerner and Rowe Injury Attorneys. Do this by calling 520-977-1900, filling out this FREE online form, or chatting via our LiveChat feature. Our attorneys serve the Tucson area (as well as throughout the state of Arizona). 
We are available to help 24/7- even on weekends- and are committed to providing excellent communications throughout your time with us. Plus, there's no fee until you win your case. So, don't wait- get the help you need and call us today.