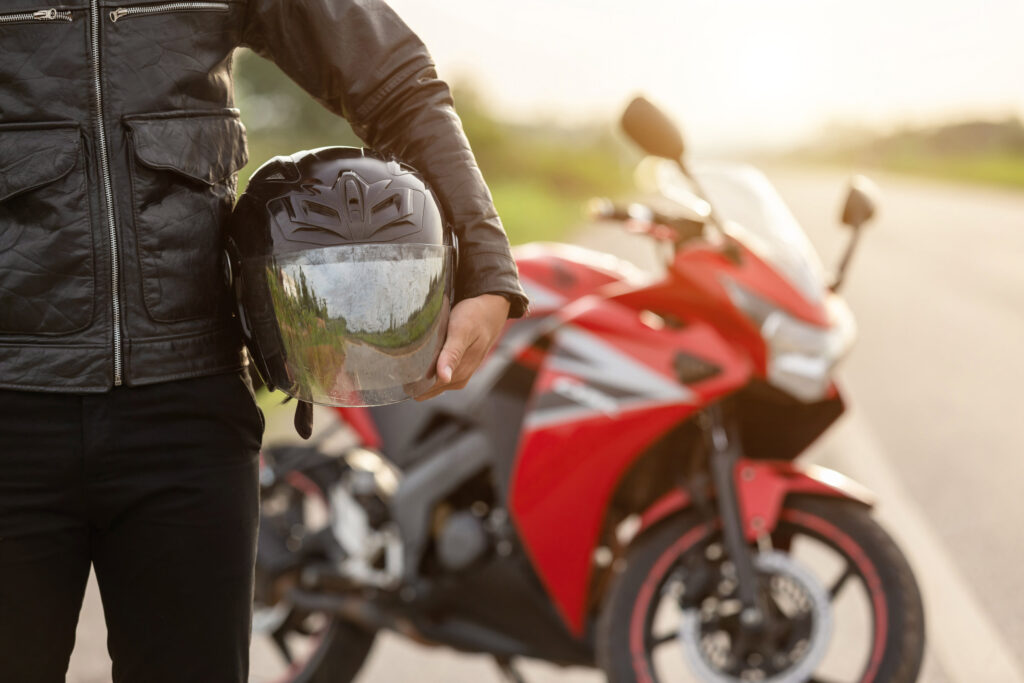 Between plenty of scenic motorcycle rides through the desert and the ability to commute faster, getting your motorcycle license in Arizona can be a both exciting and convenient addition to your life. Whether you're a new rider or have been riding for decades, you've probably heard about all the safety benefits of wearing a helmet. But what do the Arizona Revised Statutes (A.R.S.) have to say about wearing a helmet while riding? Find out the answer—plus other Arizona motorcycle helmet laws you should know—from the Phoenix personal injury lawyers at Lerner and Rowe Injury Attorneys.
Do You Have to Wear a Motorcycle Helmet in Arizona?
Sometimes. Unlike some states which require all motorcycle riders and passengers to wear a helmet, the state of Arizona only requires helmet use for riders and passengers who are under the age of 18. A.R.S. 28-964 applies to motorcycles, all-terrain vehicles (ATVs), and any motor-driven cycle (including most scooters and mopeds). The law also stipulates that the helmet must be safely secured and worn on the head in an appropriate manner at all times while operating the vehicle. Failure to follow Arizona motorcycle helmet laws can result in traffic citations and fines.
Additional Safety Gear Requirements
If you are over the age of 18, Arizona does not require that you wear a protective helmet (although it is highly recommended to do so). However, there are other safety requirements you must meet while riding a motorcycle.
Firstly, riders and passengers must wear protective glasses, goggles, or a transparent face shield on a motorcycle unless the motorcycle is equipped with a protective windshield. The only exception to this law is if the rider and passenger are in an enclosed cab.
Secondly, motorcycles and ATVs must be equipped with a rearview mirror and seat and footrests for both the operator and passenger. Finally, motorcycles must be lit with at least one (but not more than two) headlights between 22 and 54 inches in height.
Choosing the Right Motorcycle Helmet
Wearing a helmet reduces the risk of suffering a traumatic brain injury (TBI), neck injuries, and even paralysis. That being said, not all helmets are created equal. When shopping for a motorcycle helmet, keep the following tips in mind.
Motorcycle helmets manufactured in the U.S. must meet Federal Motor Vehicle Safety Standard (FMVSS) No. 218. You can tell if a helmet meets these standards because it will have a label on the back that reads, ""DOT FMVSS 218 Certified".
Be wary of helmets sold outside of the United States or those marketed as "novelty helmets", which do not provide sufficient head protection in the event of a motorcycle crash.
Avoid motorcycle helmets that are less than one inch thick, lack foam lining, or are advertised as the thinnest or most lightweight helmets available. Helmets should be one inch thick minimum and weigh at least three pounds.
Look for a helmet with a sturdy chin strap made with solid rivets. Helmets with plastic buckles are more likely to break or come apart during an accident.
Pay attention to the size and shape of the helmet you're buying. Depending on the size and shape of your head and face, the safest and most comfortable helmet for you may not be the top-selling model. Finding a proper-fitting helmet can make wearing one much more comfortable.
How Not Wearing a Helmet Can Affect Your Accident Claim
The best reason to wear a motorcycle helmet is because it greatly reduces your chances of injury or death while riding your motorcycle. But if safety isn't your top concern, consider the potential financial risks of not wearing a helmet: even in Arizona, where motorcyclists over the age of 18 are not required by law to wear a helmet, not wearing one can reduce the amount of compensation available to you should you ever be injured in a motorcycle accident.
That's right—even if the accident was caused entirely by another driver's negligence, their insurance company could try to deny your claim on the basis that you would not have been injured if you had been wearing a helmet.
When medical bills, lost income, and other expenses are piling up after a wreck, the last thing you need is another roadblock between you and the compensation you deserve. Avoiding this situation is simple: always wear a helmet when you ride!
Injured in a Motorcycle Wreck? We Can Help
Sometimes, accidents happen even to those who follow Arizona motorcycle helmet laws. If you or someone you love has been injured in an accident in Phoenix, Tucson, or throughout Arizona, legal assistance is just a phone call away. Our motorcycle accident attorneys offer free consultations to help accident victims understand their rights and options after a crash. (You may still be eligible for significant compensation, even if you weren't wearing a helmet at the time of the accident.)
For your complimentary, no obligation case review, contact our attorneys day or night by calling 602-977-1900. You can also get in touch with a representative online using our LiveChat service, or by filling out this simple questionnaire to be forwarded to our office.
Should you decide to pursue a claim with us, know that Lerner and Rowe Injury Attorneys charges no fees until we've made a financial recovery on your behalf. In addition to providing top-notch legal services, our compassionate and award-winning legal team is committed to helping victims carry the emotional burden of an injury so that they can focus on recovery.
The information on this blog is for general information purposes only. Nothing herein should be taken as legal advice for any individual case or situation. This information is not intended to create, and receipt or viewing does not constitute, an attorney-client relationship.